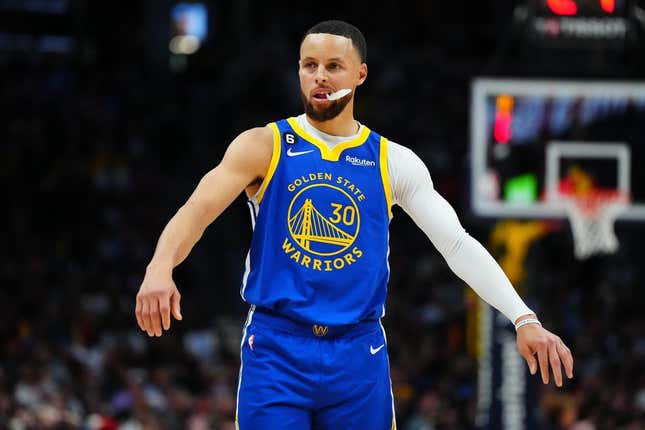 The Golden State Warriors and the Oklahoma City Thunder both have plenty to play for entering the final week of the regular season
Air Jordans are more American than McDonald's French fries | Deon Cole's Ultimate Sports Fantasy
The teams will face off in San Francisco on Tuesday, with the Warriors trying to avoid a spot in the play-in tournament
While the Thunder are trying to get into that play-in tournament
Golden State heads into Tuesday having won five of its last seven, though it is coming off a 112-110 loss in Denver on Sunday.
The Warriors (41-38) are in sixth place in the Western Conference, a half-game ahead of both the Los Angeles Lakers and New Orleans Pelicans
Oklahoma City (38-41) is in 10th place, a game ahead of Dallas and 1 1/2 games ahead of Utah for the final spot in the play-in.
The Thunder are a game behind Minnesota for ninth place
Regardless of the effect on the standings, Golden State star Stephen Curry said playing well over the last three games of the regular season is important.
"There's a sense of urgency with these last three games and not only just the wins, but the vibe you create going into a playoff series," Curry said. "That does matter."
Curry is coming off his worst 3-point shooting performance of the season, going 2-for-14 in Sunday's loss.
The Warriors could get a big lift Tuesday
Golden State's Andrew Wiggins, who hasn't played since Feb. 13, is expected to attend Tuesday's game, according to a report from The Athletic.
According to the report, Wiggins had been absent from the team to be with his father, who has been dealing with a serious medical condition.
Wiggins is averaging 17.1 points per game and shooting a career-high 39.6 percent from beyond the arc.
"We want to be whole and I'm sure he wants to be a part of this," Curry said recently of Wiggins. "But when he walks in the door, it'll be when it's the right time for him. That's kind of the expectation at this point."
Tuesday's game is the Warriors' last home game
While Golden State has struggled on the road, going 9-30, the Warriors are among the NBA's best at home, where they're 32-8
The Warriors have won 11 of their last 12 home games
The Thunder have dropped five of their last seven overall, including Sunday's 128-118 home loss to Phoenix
Oklahoma City coach Mark Daigneault said he felt better about the loss to the Suns than recent losses to Charlotte and Indiana.
"I told them after the game, we've got a week left in the regular season, and if we bring the same level of focus, competitiveness, physicality, execution to game plan -- if we bring the same level of that to all these games -- we'll be able to lay our head on the pillow at night," Daigneault said.
The Warriors are 2-1 against the Thunder this season, including a 141-114 victory Feb. 6 in San Francisco
Oklahoma City won the most recent meeting, 137-128, at home March 7.
--Field Level Media