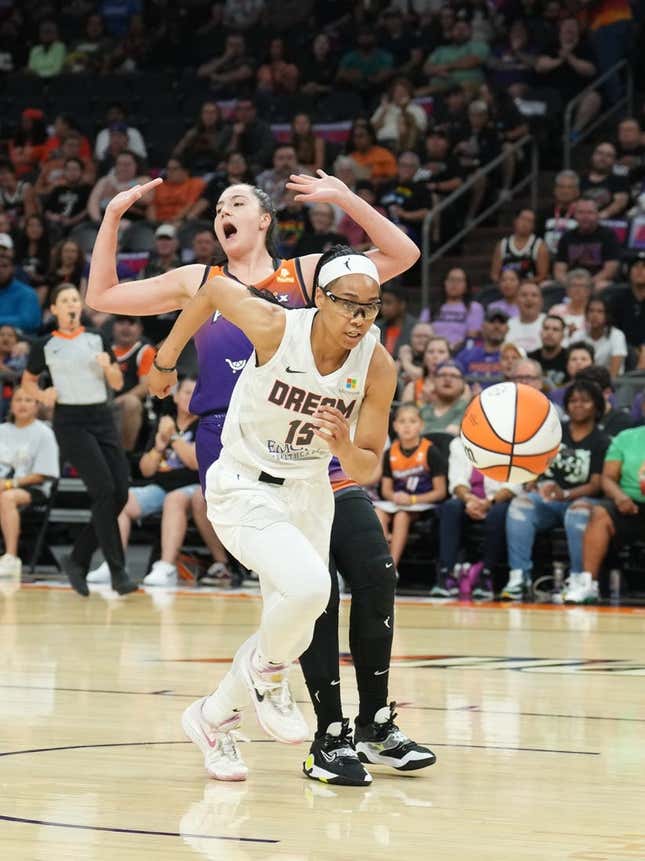 Rhyne Howard recorded 21 points and 12 rebounds to help the Atlanta Dream post an 80-75 victory over the host Washington Mystics Friday night.
How running an NFL team is like running a restaurant | Chef Emeril Lagasse
Allisha Gray added 17 points and eight rebounds and Cheyenne Parker also scored 17 points for the Dream (19-20).
Brittney Sykes scored 27 points for Washington (18-21). Elena Delle Donne added 13 points, Shatori Walker-Kimbrough had 11 and Natasha Cloud dished out a career-high 15 assists.
Both teams clinched playoff berths in their previous games. Atlanta won the season series 3-1 and holds the tiebreaker edge.
The Dream shot 37.9 percent from the field, including 6 of 24 from 3-point range.
The Mystics made 38.6 percent of their attempts and were 11 of 31 from behind the arc. Sykes had five treys.
Atlanta scored the first 12 points of the final quarter to open up a 73-60 lead.
Gray scored the first five points and Howard later scored four, including the basket that capped the spurt with 7:22 remaining.
Parker's basket with 6:28 left made it 75-62 before the Dream missed eight straight field-goal attempts while going scoreless for over six minutes.
Meanwhile, Walker-Kimbrough and Cloud made 3-pointers to bring the Mystics within 75-68 with 5:44 left. Myisha Hines-Allen made a basket with 2:17 left, and Sykes drained a trey to bring Washington within 75-73 with 1:05 to play.
Howard missed two free throws with 40 seconds remaining. She returned to the line with 22.2 seconds left and split the pair.
Sykes connected on a 16-footer to bring Washington within 76-75 with 20.2 seconds left.
Gray made two free throws to give Atlanta a three-point edge with 15.1 seconds remaining. Sykes missed a tying 3-point attempt with 9.2 seconds left before Robinson made two free throws with six seconds left to sew up the Dream's win.
Washington opened the third quarter with a 9-2 run to tie the score at 44.
Atlanta led 51-45 after two free throws by Monique Billings with 5:48 remaining before Sykes went on a personal 10-3 burst to give the Mystics a one-point edge.
Howard later made baskets 48 seconds apart to help the Dream take a 61-60 lead into the final quarter.
Earlier, Howard scored 10 first-half points as Atlanta led 42-35 at the break.
—Field Level Media