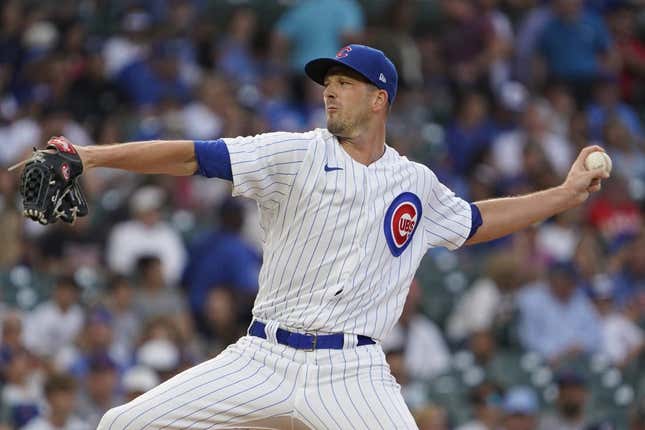 Cubs left-hander Drew Smyly has looked good this month in a relief role, but he will try to get back on track as a starter on Tuesday when Chicago faces the host Detroit Tigers in the middle contest of a three-game series.
Is Texas or Florida State a bigger national title contender? | Agree to Disagree
Smyly has tossed an inning of scoreless relief in each of his last three appearances. He'll be making his first start since Aug. 7, when he allowed seven runs in five innings against the New York Mets.
"I think the data always pointed to his stuff was still good," Cubs manager David Ross said. "I think what (pitching in relief) does is allow you to come in, get aggressive in the zone as a short burst, kind of air it out a little bit, so to speak, then be on the attack. ... I think the mental benefit of that can really carry over."
Entering late June, Smyly had a 7-4 record with a 3.38 ERA. Over his next eight appearances (six starts), he went on to post a 9.00 ERA before his recent success in the bullpen.
He was especially vulnerable to the long ball, surrendering 12 home runs in those eight outings.
"There's some analytic numbers that point to leaning toward him," Ross said. "There's some experience leaning toward him."
Smyly (9-8, 4.92 ERA) began his career with Detroit. In three career starts against the Tigers, he is 0-2 with a 5.50 ERA.
Smyly will be opposed by rookie right-hander Reese Olson (2-5, 4.83) on Tuesday. In his most recent outing last Wednesday, Olson lasted just 2 2/3 innings while giving up four runs and eight hits to Minnesota.
It was a stark contrast to his previous start, also against the Twins, when he tossed six scoreless innings and notched eight strikeouts.
"Reese didn't have it (Wednesday); you could tell," Detroit manager A.J. Hinch said.
The Cubs won a 7-6 thriller in the series opener on Monday night. Chicago blew a four-run lead, scored two runs in the top of the ninth, then hung on despite allowing a run in the bottom of the inning.
Nick Madrigal had two run-scoring doubles, including the go-ahead hit in the ninth. The Cubs pulled within 2 1/2 games of first-place Milwaukee in the National League Central. The Brewers were idle on Monday.
Spencer Torkelson continued his hot hitting for Detroit. He had four hits, including a solo homer, and scored three runs on Monday. Kerry Carpenter had three hits, including a solo shot that followed Torkelson's long ball.
"There was a lot of energy in the ball park, and that put more energy into the ballpark," Hinch said. "We made a nice little run at it."
Catcher Carson Kelly was hitless in his Tigers debut after being released by the Diamondbacks last Tuesday. Center fielder Parker Meadows made his major league debut and went 1-for-5. Meadows had a chance to win it in the ninth but flied out with a runner on base against Mark Leiter Jr.
"The last pitch cut a little bit, or he might have had a different story," Hinch said of Meadows. "That was a good swing at the end. He handled (the debut) great. Getting that first hit out of the way is important. He loved being in the big leagues, as he should. He earned that."
—Field Level Media