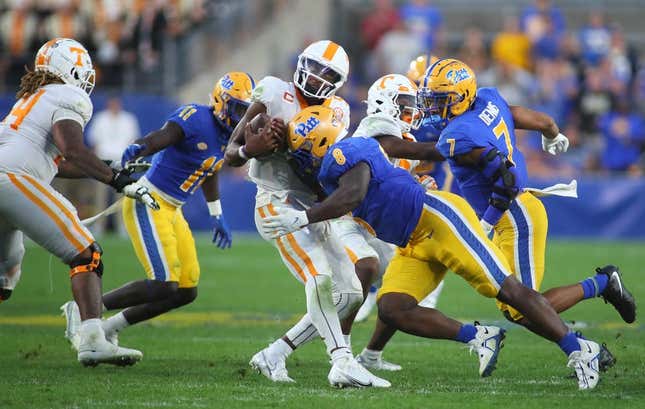 Pitt defensive tackle Calijah Kancey told his college coach he was headed to the NFL Scouting Combine to break the record for the 40-yard dash at his position.
And a day after promising media at his press conference his 40 would "surprise," Kancey ripped off a pair of sizzling times.
"I'm going to surprise everyone with my 40. Stay tuned," Kancey said Wednesday.
His second attempt in the 40 was unofficially clocked at 4.73 seconds, then confirmed via digital timing to 4.67, the fastest for a defensive tackle in the past 20 years.
But Northwestern's Adetomiwa Adebawore, a defensive tackle for the Wildcats who could be classified as a defensive end, followed shortly after with an unofficial 4.54. The NFL later certified his official digital time at 4.49 seconds.
Adebawore, a star of the Senior Bowl who was voted defensive lineman practice player of the week in Mobile, Ala., measured at 6-foot-1 1/2, 282 pounds upon arrival in Indianapolis. He said he has met with all 32 teams in the past five weeks, either at the Senior Bowl or combine.
Teams asked Adebawore to join the "edge" group in combine workouts Thursday and he stood out in the 40, but also with a 37 1/2-inch vertical and 10-foot-5-inch broad jump.
His 10-yard split, his fastest 10 yards in the 40-yard dash, was 1.61 seconds.
Not to be outdone, Georgia outside linebacker Nolan Smith posted a 4.39 40 time and 41 1/2-inch vertical at 6-foot-2, 238.
If Smith's 1.52-second 10-yard split is confirmed as official, it would be a position group record.
For reference, Ravens quarterback Lamar Jackson's 10-yard split coming out of Louisville was 1.54 seconds.
Rated as a first-round prospect, Kancey measured 6-foot-1, 281 pounds in Indianapolis earlier this week. He's fully cleared from a shoulder injury but will not participate in on-field position drills until his campus pro day.
Limited by size, Kancey is an intriguing study for NFL evaluators.
Some of them are still scorched over missing on another fire hydrant defensive tackle out of Pitt -- Aaron Donald. Donald measured 6-foot, 285 at the 2014 combine, where he recorded a 4.68-second 40, 32-inch vertical and wound up being drafted by the then-St. Louis Rams with the 13th overall pick. That easily beat most projections, including the NFL.com rating as a fourth- or fifth-rounder.
Donald is three-time NFL Defensive Player of the Year and a seven-time first-team All-Pro.
--Field Level Media