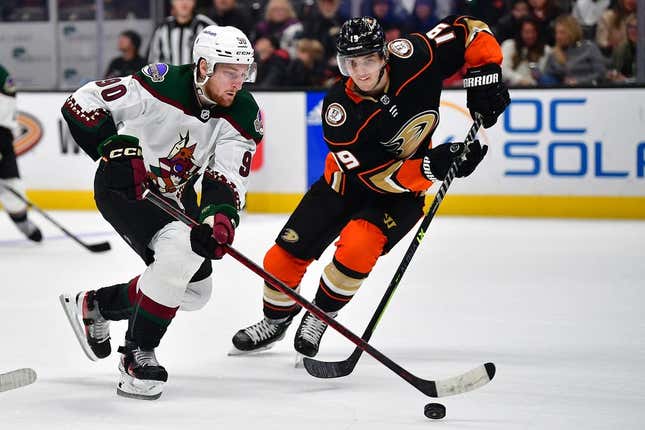 Teams riding nine-game losing streaks meet Saturday when the Anaheim Ducks visit the Arizona Coyotes in Tempe, Ariz
Chris Paul should ride the bench next season | Keep it a Buck(et)
Anaheim (23-45-10, 56 points) is tied with the Blackhawks (25-47-6, 56 points) for the fewest points in the Western Conference, while Arizona (27-39-13, 67 points) is 13th out of 16 teams.
The Ducks extended their season-long losing streak with a 3-1 loss to visiting Edmonton on Wednesday
The Coyotes equaled their longest losing streak of the season (0-7-2) with a 4-2 setback to the host Seattle Kraken on Thursday. Arizona also dropped nine straight from Dec. 31 - Jan. 15
Anaheim, which has been outscored 39-14 during its skid, will miss the playoffs for the fifth straight season.
The Ducks trailed 2-0 after the first period before Troy Terry's goal pulled Anaheim to within 2-1 at the 4:56 mark of the third period. But the Oilers secured the win on Zach Hyman's empty-net goal with 1:42 remaining
Lukas Dostal started in place of regular goaltender John Gibson, who was out with an illness for the second straight game. Dostal made 30 saves for the Ducks
"I thought we had good sticks," Anaheim coach Dallas Eakins said. "We tried to take away their time and space. I thought (Dostal) made a couple good saves on them. It was a little bit of everything."
Trevor Zegras, who is tied for the team lead with Terry at 22 goals, leads the Ducks in assists (38) and points (60), three ahead of Terry, who is second on the team with 35 assists
Arizona, which has been outscored 42-19 during its losing streak, has been especially poor since a 5-4 loss to the Oilers on March 27. The Coyotes have been outscored 24-7 in their past four games, including by a combined 12-3 in consecutive road losses to the Kraken
Three days after losing to Seattle 8-1, Arizona trailed 3-0 early in the second period before Barrett Hayton's goal cut the lead to 3-1 entering the third period.
Seattle extended its lead to 4-1 at the 3:37 mark of the final period before Laurent Dauphin's first goal of the season with 40 seconds left capped the scoring.
Karel Vejmelka made 30 saves for the Coyotes, who will miss the playoffs for the third straight season
"I don't think we generated a lot in the first and we took a little bit of time to get our offense figured," Arizona coach Andre Tourigny said. "I think we generated enough in the second and third periods. We had (two) power plays, but we couldn't score a killer goal at the right time."
Arizona is led by Clayton Keller, who leads the team in goals (36), assists (47) and points (83). He's well ahead of Nick Schmaltz, who is second with 54 points (21 goals, 33 assists).
The Ducks have won the teams' previous two meetings of the season, picking up a 5-2 road win on Jan. 24 before prevailing 2-1 in overtime on home ice four days later
--Field Level Media