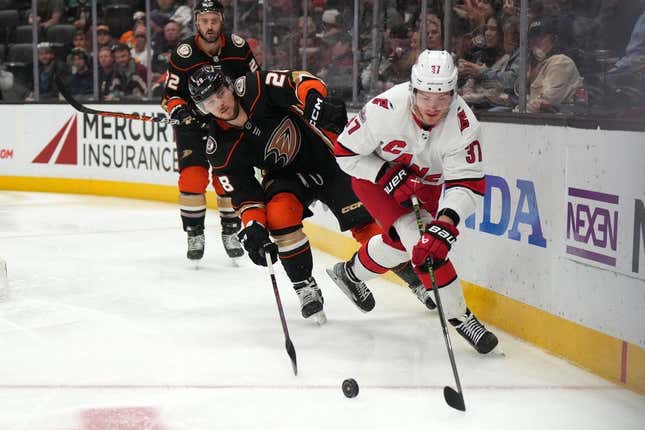 The Anaheim Ducks haven't had many highlights this season, but a sweep of the Carolina Hurricanes would be something to add to the end-of-season reel.
Anaheim will face the Hurricanes on Saturday night in Raleigh, N.C.
The Ducks beat Carolina 4-3 in overtime on Dec. 6 in Anaheim, their only win in a 10-game stretch.
The Hurricanes sit atop the Metropolitan Division standings, while the Ducks are at the bottom of the Pacific Division standings.
"It's been tough sledding this year for us," said Anaheim center Ryan Strome, who scored the overtime winner against Carolina earlier this season. "In such a tough season, you want to ride the highs as much as you can."
Anaheim will arrive at PNC Arena on a high note after beating the host Washington Capitals 4-2 on Thursday.
Making the victory even more satisfying was the way Anaheim found success without two of its best players, co-leading goal-scorer Adam Henrique and defenseman John Klingberg, both of whom were out with lower-body injuries and remain questionable to face Carolina.
The Ducks welcomed back right winger Troy Terry after he missed seven games with an upper-body injury. The team's lone All Star this season scored in his first game back.
Anaheim ended a six-game losing streak with the victory.
"It's been a really tough stretch for us here lately," Ducks forward Jakob Silfverberg said. "Getting the win and getting the morale boost in the room, that's a lot."
The Hurricanes won their fifth straight game on Friday night, beating the visiting Ottawa Senators 4-0. It was Carolina's 12th win in 13 games.
The top line of Seth Jarvis, Andrei Svechnikov and Sebastian Aho remain hot. They combined for a goal and four assists against Ottawa, giving them nine goals and 12 assists in the past four games.
"It's just hard work," said Jarvis, who has five goals and two assists in the four-game span. "(Aho and Svechnikov) thrive off speed and hard work, and that's what I try to bring to the line, so when we all work in sync, good things happen."
Defenseman Brent Burns, in his first season with Carolina after playing the past 11 with the San Jose Sharks, continues to make a major impact with his new team.
Burns scored his 12th goal of the season on Friday, and his easy-going personality fits well in the locker room.
"He's a true pro, but he doesn't take himself seriously at all," Jarvis said. "He keeps it lighthearted. I think it's easy for young guys like me to connect with that. I'm just having a blast out here and it's the same thing for him. He's 37 ... years old, having the time of his life, so it's easy to feed off him, and then on the ice he's a special player."
Burns owns plenty of experience against the Ducks from his time in San Jose. He has 46 points (15 goals, 31 assists) in 73 career games against Anaheim.
Carolina's Frederik Andersen will be back in goal against his former team after Antti Raanta made 32 saves against Ottawa for his third shutout of the season.
Andersen, who was selected in the third round of the 2012 draft by Anaheim, has allowed one goal in each of his past two starts.
He has faced the Ducks just six times in his career, posting a 4-1-0 record with a 2.00 goals-against average and a .934 save percentage.
--Field Level Media