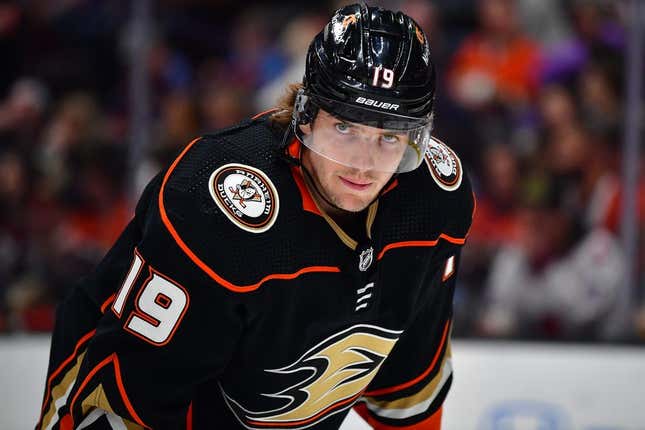 Anaheim Ducks coach Dallas Eakins likes the effort of his charges as they approach the finish line, even though the club is mired in an 11-game winless skid
The Ducks will play the middle match of their season-ending, three-game homestand on Tuesday night vs. the Vancouver Canucks
Anaheim (23-45-12, 58 points) resides two points ahead of the Chicago Blackhawks (25-49-6, 56 points) and Columbus Blue Jackets (24-47-8, 56 points) in the NHL. The Ducks and Blackhawks have two games remaining, while the Blue Jackets have three
In a season that has featured a staggering 57 total losses, Anaheim has lost all three meetings this season vs. Vancouver. The worst defeat was an 8-5 road setback on Nov. 3 that left the Ducks 3-7-1 in the young season
Back to the present, Eakins hasn't questioned his club's effort or noticed a drop in play after Sunday night's 5-4 overtime loss against the Colorado Avalanche.
The Ducks rallied from an early 2-0 deficit with four unanswered goals -- taking a 4-2 lead on Brett Leason's sixth tally at 7:25 of the third period
But Colorado's Mikko Rantanen and Nathan MacKinnon each scored a power-play goal, and MacKinnon tallied again in overtime.
"Our guys are full of fire," Eakins said. "They're working hard for each other, and they're trying to support each other, and they've competitive people."
Despite his club being outscored 49-22 and winless across 11 contests (0-9-2), Eakins said he liked the direction of his group and cited Sunday's opposition as the model going forward.
"Five or six years ago, (the Avalanche) finished 34 games under .500. And look at them now," he said.
Anaheim added to the organization Monday by signing University of Minnesota defenseman Jackson LaCombe to an entry-level contract.
A left-handed shot, the Eden Prairie, Minn., product can play on either side in the back and will join the team Tuesday.
Vancouver's new coach, Rick Tocchet, has had quick success with his club, which traded captain Bo Horvat to the New York Islanders for forwards Anthony Beauvillier and Aatu Raty plus a first-round conditional pick in June's draft.
Vancouver (36-37-7, 79 points) absorbed a 3-0 defeat against the Kings on Monday following a 20-save performance by Los Angeles goalie Joonas Korpisalo.
The Kings ended Elias Pettersson's 13-game road point streak with the win -- the second-longest in franchise history behind Pavel Bure's 15 straight in the 1993-94 season.
Despite dropping to 2-3-2 in its past seven matches, Vancouver is 18-12-4 since Tocchet took over bench duties on Jan. 22.
In a recent interview about the squad and his coaching style, Tocchet said the process for the Canucks getting better under him wouldn't be easy
"You can't win being comfortable, and I think it's very important that they realize there's going to be very uncomfortable times with me, with other coaches, with other teammates, to get to the level we want," Tocchet said in a Sportsnet.ca interview.
"Comfortability is not going to get us there."
--Field Level Media