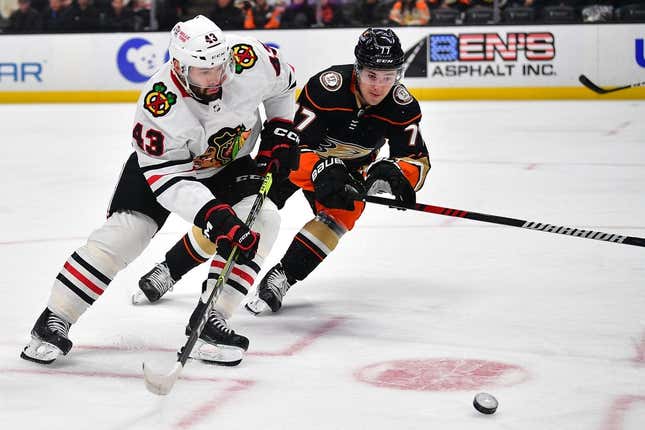 Max Jones scored the go-ahead goal late in the second period and Mason McTavish had three assists as the Anaheim Ducks matched a season high with their third consecutive victory by defeating the visiting Chicago Blackhawks 4-2 on Monday.
Isac Lundestrom, Jakob Silfverberg and Troy Terry also scored goals for the Ducks, with Silfverberg recording his 150th in an Anaheim uniform. Terry and Silfverberg have goals in each game of the winning streak. Jones and Terry each had two points.
Lukas Dostal had 24 saves for the Ducks, while Frank Vatrano had two assists in the game between the two worst teams in the Western Conference.
Tyler Johnson and Andreas Athanasiou each scored goals for the Blackhawks, who saw their season-best five-game winning streak come to an end. Petr Mrazek had 29 saves for Chicago, while Max Domi had two assists and Johnson added an assist.
Forward Joey Anderson (11 minutes) and defenseman Andreas Englund (17 minutes) each made their Blackhawks debut after they were acquired in separate trades over the past two days.
The Blackhawks were without Patrick Kane for the second consecutive game after the star forward returned to Chicago amid trade rumors. Jonathan Toews has missed the Blackhawks' past 11 games because of health issues.
The Blackhawks got the early jump when Johnson scored his eighth goal of the season 5:35 into the game on the power play. Domi earned an assist to extend his point streak to seven games.
The Ducks got even when Lundestrom scored his fourth goal at 13:18 of the opening period, and Silfverberg added his ninth on the power play with 46 seconds remaining in the first for a 2-1 lead.
The Blackhawks tied it when Athanasiou scored his 13th marker on the power play at 13:11 of the second, but Jones' fifth, off a pass from McTavish, came with 18 seconds remaining in the period.
Terry's goal, his 16th at 8:15 of the third period, came when his sharp-angle shot hit the crossbar, bounced off Domi's chest and went into the Chicago goal.
--Field Level Media