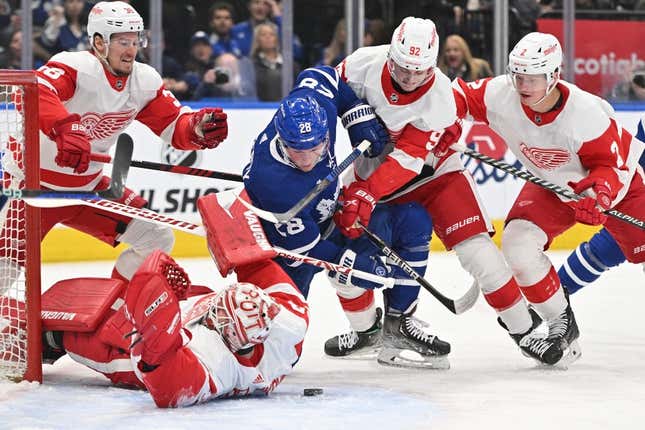 Dylan Larkin scored three goals for his second career hat trick and the visiting Detroit Red Wings defeated the Toronto Maple Leafs 5-2 Sunday night
Olli Maatta added a goal and an assist for the Red Wings (34-33-9, 77 points). Jonatan Berggren also scored for the Red Wings
Alex Nedeljkovic had a strong game in the Detroit goal, stopping 43 shots.
Calle Jarnkrok and John Tavares scored for the Maple Leafs (45-21-10, 100 points), who were coming off a 3-0 road victory Saturday against the Ottawa Senators
Matt Murray made five saves on seven shots for Toronto before leaving late in the first period because of concussion protocol. He did not return. Ilya Samsonov took over and made 13 saves.
Larkin's third goal was into an empty net.
Maatta scored on a breakaway at 1:30 of the first period for his sixth goal of the season.
Jarnkrok knocked in a rebound at 7:33 of the first for his 19th goal of the season. It came as a Detroit penalty expired.
Toronto was awarded a penalty shot at 7:56 when Detroit forward Marco Kasper was called for covering the puck in the crease. David Kampf was stopped on the penalty shot.
Berggren scored his 14th of the season at 12:45 of the first with a 34-foot wrist shot.
Murray left at 16:16 of the first after Detroit's Lucas Raymond lost an edge and accidentally took out the legs of the goaltender, whose neck and head hit the ice.
With Samsonov in goal, Larkin scored at 19:21 of the first on a 31-foot shot.
Tavares scored his 33rd goal on a deflection during a power play at 6:00 of the third period. Larkin was off for holding.
Larkin scored on a deflection at 10:16 of the third and added his 31st of the season at 17:48 into an empty net.
Mitchell Marner,Jake McCabe and Mark Giordano were rested and did not play Sunday for Toronto.
The Maple Leafs recalled Nick Abruzzese from the Toronto Marlies of the American Hockey League. He had an assist on Sunday
--Field Level Media