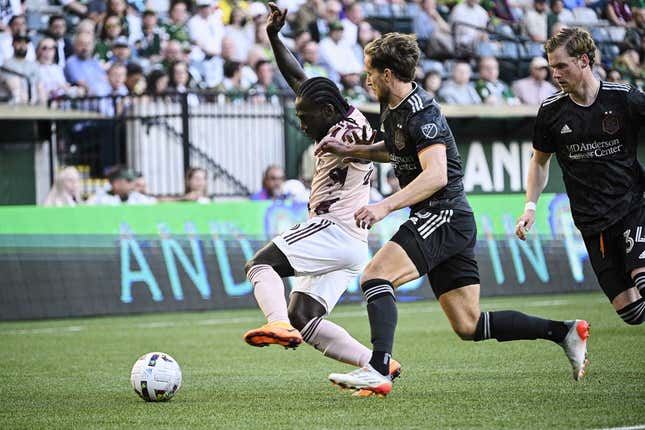 Houston Dynamo FC look to snap a nine-match winless streak but will have to beat the visiting Portland Timbers, traditionally one of their most difficult opponents, when the sides square off on Sunday in each squad's return to MLS play after the Leagues Cup.
How running an NFL team is like running a restaurant | Chef Emeril Lagasse
The Dynamo (8-10-5, 29 points) occupy the ninth and final Western Conference playoff spot with nine matches to play but haven't won a match in nearly two months since June 21, in the process going 0-3-3 in MLS action and 0-1-2 in Leagues Cup. Four of their past five matches have ended in draws, including a 0-0 tie at Colorado Rapids on July 15.
Houston has not played a match since an Aug. 7 loss to Charlotte FC in the Leagues Cup knockout round but has captured seven of its eight MLS wins this season on its home pitch.
"I think we're refreshed and ready," Houston coach Ben Olsen said. "The message is that we're in crunch time and this is the fun part. As of now we're in a playoff spot and most of the games down the stretch are against teams in and around the playoff spot.
"So it's about appreciating the moment and trying to move up in the table and get results and just understanding the importance of every single game and every single play."
The Timbers (6-9-8, 26 points) are in 12th in the West and head to Houston after getting bounced out of Leagues Cup play in the Round of 32 with a 1-0 home loss to C.F. Monterrey on Aug. 4. The Timbers earned a 3-2 home victory over Columbus in their last regular-season match on July 15 but has not won back-to-back matches all year.
"I think we have shown that we can compete very much in MLS right from the get go and try to make the playoff and move forward," Portland coach Giovanni Savarese said after the loss to C.F. Monterey.
Portland has an eight-match undefeated stretch against the Dynamo, winning five matches and drawing three times with Houston since the start of the 2019 season. That streak ties the Timbers' longest active unbeaten run against any MLS opponent.
—Field Level Media