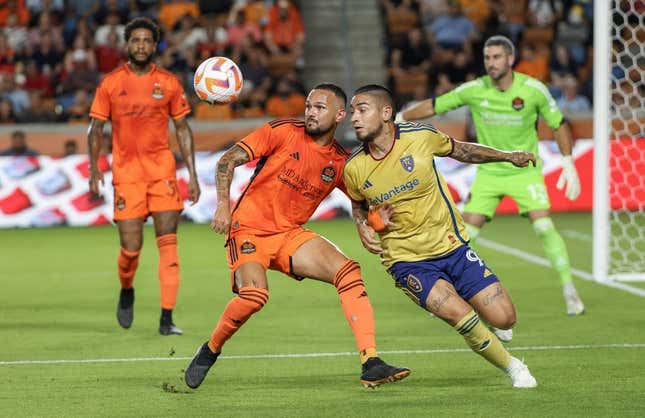 Adalberto Carrasquilla scored halfway through the 30 minutes of extra time, propelling the host Houston Dynamo to a 3-1 victory over Real Salt Lake in a U.S. Open Cup semifinal match on Wednesday.
How running an NFL team is like running a restaurant | Chef Emeril Lagasse
Houston will play for the title Sept. 27 at Inter Miami, a 5-4 winner in penalties winner over host FC Cincinnati after a 3-3 tie in the other semifinal on Wednesday. If Salt Lake had won it, the title match would have been played in Utah.
Carrasquilla took a pass from Amine Bassi 30 yards out and dribbled to the top of the box on the right side before striking a shot to the lower left corner.
RSL went down a player in the 119th minute when Brayan Vera received a red card. Houston's Luis Caicedo tacked on a goal in the fifth minute of second-half stoppage time, with Bassi contributing his third assist, to make it 3-1.
Hector Herrera gave Houston the lead in the fifth minute of first-half stoppage time before Salt Lake's Anderson Julio made it 1-1 in the 64th.
While the Dynamo carried a 1-0 lead into the halftime, they would have had a two-goal advantage if not for a goal that was overturned after a video review.
Herrera scored in front after a poor clearance by Andrew Brody, who lost control of the ball while looking for an outlet. Bassi took advantage of the giveaway and fed Herrera for his shot inside the right post.
Three minutes later, Corey Baird appeared to score off a Houston set piece, but he was ruled offside.
RSL got the equalizer on the counter after goalie Zac MacMath made a strong save on a shot by the Dynamo's Franco Escobar. The play went the other way, and Jefferson Savarino's cross was headed in by Julio.
Houston coach Ben Olsen led D.C. United to the 2013 U.S. Open championship, beating Salt Lake in RSL's lone final appearance.
The Dynamo and RSL will face off again on Saturday in an MLS match at Sandy, Utah.
—Field Level Media