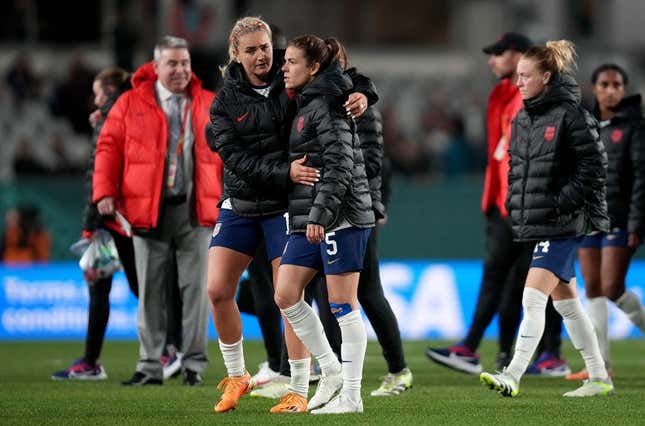 Women's World Cup mainstays Brazil and Germany packed their bags as the elimination rounds arrive with the defending champion United States still standing.
How running an NFL team is like running a restaurant | Chef Emeril Lagasse
A scoreless draw with Portugal sparked criticism at home and abroad of the USWNT not playing to its usual dominant standard. It was the first time since 2011 that the Americans failed to win the group stage.
But players said Thursday they aren't focused on "outside noise" or media measurement of the team's prospects for another World Cup win as they prepare to face rival Sweden on Sunday in Melbourne, Australia.
"It's no secret that we feel like we could play better," Lynn Williams said Thursday. "Having that experience, feeling like -- first of all, being joyful that we made it to the Round of 16 and not diminishing that accomplishment, that was the name of the game the whole time ... get out of the group stage. And that's exactly what we did. Of course, we want to be playing better, but tournaments are about getting results and we're getting the results."
Captain Lindsay Horan said the sharp edges around commentary about the team coming up short or being a disappointment -- all while moving on to the Round of 16 -- has hit a nerve.
Former USWNT captain Carli Lloyd's words from the FOX Sports studio questioning why players would be dancing and joyful after the draw with Portugal remained a hot topic.
Horan said hearing the comments was "kind of frustrating."
"In this game you can't question that we didn't want to win the game. You can't question we weren't working as hard as we possibly could. We know we could have done better," Horan said.
Better will likely be required Sunday. Williams is one of 14 USWNT players experiencing the World Cup for the first time. Horan said her message to the team won't be about increased pressure or performance, rather finding joy in the challenges ahead.
"I think once we get that, once we get a little bit more of that joy back and that feeling, things are going to move a little bit better on the field," Horan said. "We're gonna have more rhythm. We're gonna have more confidence, and things will come. More and more chances will come."
There was plenty of joy for Sweden in the group stage with a 3-0 run through Italy, South Africa and Argentina to set up a shot at taking down the rival U.S.
The U.S. has won four of the previous six World Cup meetings between the countries, but Sweden won the most recent clash 3-0 in the Tokyo Olympics group stage in July 2021.
Sweden has scored on nine of 16 shots on goal in the 2023 World Cup.
"We're playing for these big matches. We're playing for these big moments, these pressure cookers," Horan said. "And that's what we want to be a part of. And being the US national team, we're always going to have that. You guys always want to talk about us and we're going to take that pressure. We're going to go with it, but we're going to focus on ourselves and look at everything internally and try to keep the noise out as much as possible."
--Field Level Media