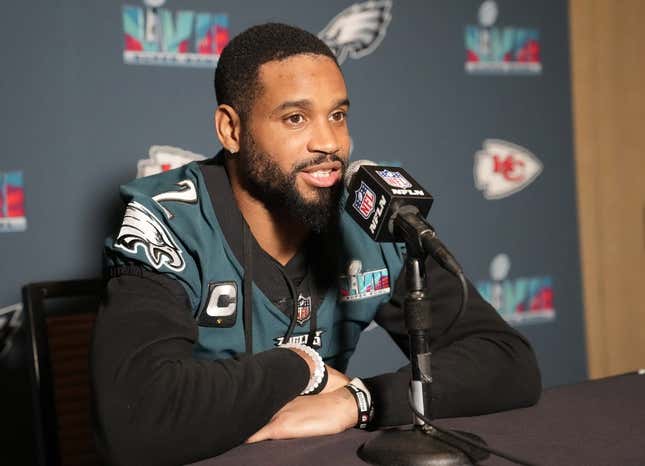 Philadelphia cornerback Darius Slay said he nearly joined the Baltimore Ravens before re-signing with the Eagles last month
'Soccer fandom is full of gatekeepers' says Ted Lasso actor Brendan Hunt
"I was almost ... a Baltimore Raven. I was this close," he revealed Saturday on his "Big Play Slay" podcast. "But I wanted to be an Eagle. I stayed an Eagle because I know me and (general manager) Howie (Roseman) were going to figure something out.
"But the Baltimore Ravens were the first team that called, and they offered me just what I wanted.
Despite previous reports that the Eagles were planning to release him, Slay ultimately agreed to a three-year, $42 million contract extension with Philadelphia that includes $24.5 million in guarantees, according to Spotrac
Slay, 32, started all 17 games in 2022 and registered 14 pass breakups and three interceptions for a unit that led the league in pass defense (179.8 yards per game).
He added 12 tackles in the postseason for the NFC champs, who lost 38-35 to the Kansas City Chiefs in Super Bowl LVII.
Slay has 26 interceptions and 513 tackles in 151 games (141 starts) with the Detroit Lions (2013-19) and Eagles. He is a five-time Pro Bowl selection, including in two of his three seasons in Philadelphia
--Field Level Media