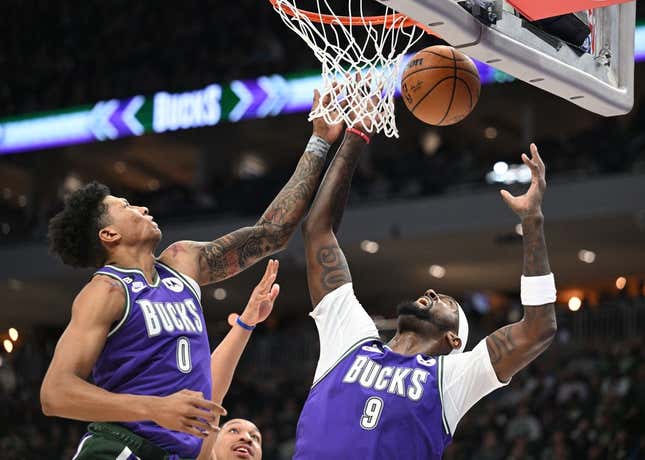 After hosting one of the Eastern Conference's top contenders on Thursday, the Milwaukee Bucks will get a crack at yet another on Sunday night when they take on the visiting Philadelphia 76ers
Bass' ERA stinks, but not compared to who he is off the mound | Worst of the Week Countdown
Milwaukee (55-22) is coming off its second-worst home loss in franchise history, falling 140-99 to the Boston Celtics. Following a competitive first quarter, the Celtics completely took over, as Jayson Tatum and Jaylen Brown combined for 70 points while playing only three quarters in the rout.
Giannis Antetokounmpo led the Bucks with 24 points on 11-for-27 shooting. The Bucks had scored 100-plus points in 33 consecutive games prior to Thursday
Boston did a good portion of its damage from outside, sinking 22 of 43 (51.2 percent) 3-point attempts.
"They were very good tonight and we weren't. Credit to them," Bucks coach Mike Budenholzer said. "They put it on us in a big way. We have to find a way to be better against the 3-point line.
Philadelphia (51-26) earned a 117-110 victory over the visiting Toronto Raptors on Friday night to pick up its second straight win following a three-game skid. Joel Embiid and James Harden each put up double-doubles, with Embiid going for 25 points and 12 boards and Harden supplying 23 points with 11 assists.
"We were 3-for-17 in the second half, 16 of them were wide-open threes. It's a make-or-miss league," 76ers coach Doc Rivers said. "That's going to happen, but you still have to find a way to win and we did that.
Antetokounmpo leads the Bucks with 31.1 points and 11.8 rebounds per game. Jrue Holiday is averaging team highs in assists (7.3 per game) and steals (1.1 per game), while Brook Lopez averages a team-high 2.5 blocks
Embiid leads the entire NBA in scoring at 33.0 points per game while also leading the Sixers with averages of 10.2 rebounds and 1.7 blocks. Harden is also among the league leaders, averaging an NBA-best 10.9 assists per game.
On the injury front, the Bucks were without Meyers Leonard against Boston because of a calf injury. Budenholzer told reporters he is "hopeful" Leonard will play again in the regular season. Milwaukee will also be without Thanasis Antetokounmpo, who was suspended for one game after headbutting Celtics forward/center Blake Griffin
Khris Middleton left Thursday's game against the Celtics after being elbowed in the face, causing him to bleed on the court. However, he is expected to play against the 76ers
The 76ers were without Tobias Harris on Friday due to illness, but Harris will be good to go against Milwaukee. He is averaging 15.0 points, 5.8 rebounds and 2.5 assists this season
Milwaukee sits atop the Eastern Conference and is now just 1 1/2 games ahead of Boston, which holds a 2 1/2-game edge over third-place Philadelphia. The 76ers will look to clinch the season series against Milwaukee after winning the previous two matchups, with the latest being a 133-130 victory on March 4 that ended the Bucks' 16-game winning streak
--Field Level Media