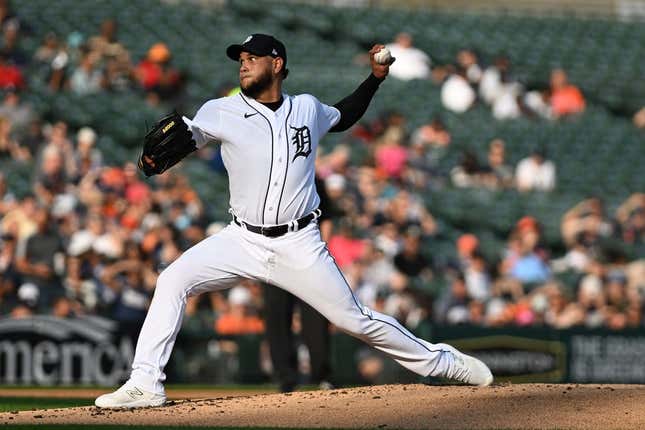 Eduardo Rodriguez's return from the injured list didn't quite go as planned.
But the Detroit Tigers left-hander will get another shot to get back on track Friday night against the host Seattle Mariners, when play resumes after the All-Star break
How running an NFL team is like running a restaurant | Chef Emeril Lagasse
Rodriguez (4-5, 2.64 ERA) missed five weeks with a left index finger pulley rupture before making his comeback on July 5 against visiting Oakland. He gave up a season-high five runs on six hits over four innings with seven strikeouts in a 12-3 defeat.
"Healthwise, he checked out great, which is very important and the positive take out of it," Tigers manager A.J. Hinch said. "It was a weird game for him, because I thought his stuff was OK.
Although Rodriguez didn't walk a batter against the Athletics, he wasn't pleased.
"The command of the fastball was all over the place," Rodriguez said. "I was getting behind a lot of the hitters, and (I) had to come back to the strike zone and paid for it."
By pitching Friday, Rodriguez could get four more starts in before the trade deadline. With the Tigers 5 1/2 games back in the American League Central and 10 games behind in the wild-card chase, Rodriguez might be an attractive option for contending teams considering his low ERA
"I have to keep myself in shape, throw bullpens, long bullpens, and see when my next start is going to be," said Rodriguez, who is 4-4 with a 4.06 ERA in 11 career starts against Seattle. "I've been through that a lot of years already."
The Mariners are scheduled to send right-hander Luis Castillo (6-6, 2.85) to the mound Friday. Castillo was a member of the AL team but didn't pitch in Tuesday's All-Star Game at T-Mobile Park in Seattle
Castillo is 2-0 over his past three starts. Last Friday at Houston, he allowed one unearned run on five hits in seven innings against the Astros in a 10-1 victory.
"From the fourth inning on, that's vintage 'Rock,'" Mariners manager Scott Servais said of Castillo's last outing. "The velocity was there, the movement on the pitches (was there).
Castillo is 0-2 with a 3.50 ERA in three career starts against Detroit.
The Mariners, who snapped a postseason drought that dated back to 2001 last season, bolstered their playoff hopes by winning seven of the last nine games before the All-Star break. They took two of three against visiting Tampa Bay and host San Francisco before winning three of four in Houston. Seattle is six games back in the AL West, but only four games out of the final wild-card berth
"To win the last three series gives us a little boost here going into the All-Star break," Servais said. "It hasn't been an easy first half. There have been some struggles. But you look up, right where we're at now, we are (a) game over .500."
While their pitching has been strong throughout, the Mariners have finally started to get some offensive production. They averaged 5.1 runs over the past 10 games, with a .260/.351/.430 slash line
"A lot of good things offensively," Servais said. "We've got to carry it over. The traffic of runners on base is the biggest reason we've been more consistent, and then you run into some (slugging) and that's how you put up crooked numbers."
--Field Level Media