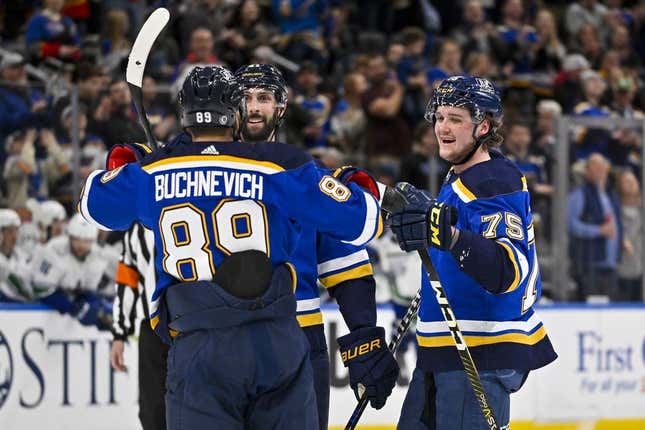 Elias Pettersson scored on an end-to-end rush with 15 seconds left in overtime to complete a three-point night and lift the visiting Vancouver Canucks to a 3-2 victory over the St. Louis Blues.
Pettersson also assisted on goals by Andrei Kuzmenko and J.T. Miller as the Canucks won for just the third time in their last nine games (3-4-2). Rookie goaltender Arturs Silovs made 20 saves to earn his second NHL victory.
Alexey Toropchenko and Tyler Tucker scored and Jordan Binnington made 38 saves for the Blues, who lost their fourth straight game (0-3-1).
Vancouver outshot the Blues 14-6 in the first period, but trailed 1-0 after the opening 20 minutes.
The Canucks thought they scored 6-on-5 with Silovs pulled for an extra attacker during a delayed penalty with less than six minutes left in the period. But the Blues won a goaltender interference challenge to erase an apparent Miller goal.
The Blues then took a 1-0 lead with a short-handed goal during the ensuing Vancouver power play. Pavel Buchnevich broke out on a two-on-one and set up Toropchenko's clean break-in.
Tucker made it 2-0 at the 6:45 mark of the second period with his first NHL goal. He took Robert Bortuzzo's pass at the left point and scored through teammate Ivan Barbashev's screen in front of Silovs.
Vancouver challenged the goal, arguing that the puck was knocked down with a high stick before the score. The challenge failed, leaving the Canucks short-handed.
The Canucks killed off the penalty, then sent Conor Garland on a breakaway coming out of the penalty box. But Binnington stopped him to maintain the two-goal lead.
Vancouver broke through with a short-handed goal at 9:08 of the third period. Pettersson led a two-on-one rush out of the Blues zone and set up Miller's blast off the right wing.
With Silovs pulled for an extra attacker, Pettersson fired a shot on goal from the right circle and Kuzmenko banged in the rebound to tie the game 2-2 with 28.6 seconds left.
--Field Level Media