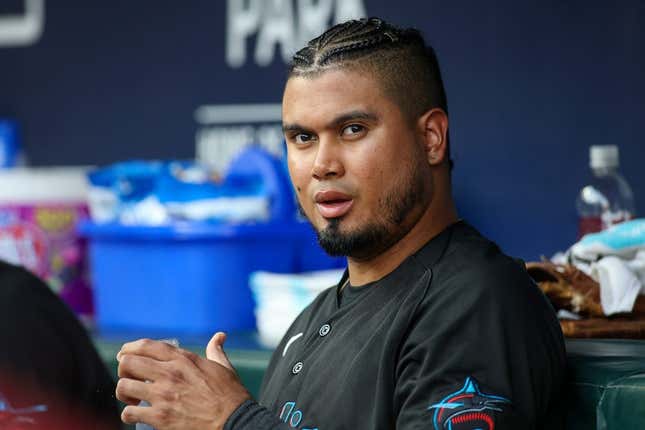 Luis Arraez won the American League batting title last season and the accomplishment didn't even earn him another season with the Minnesota Twins.
Is Texas or Florida State a bigger national title contender? | Agree to Disagree
The Twins traded the second baseman to the Miami Marlins in the offseason and now Arraez is even better. He's simply turned into the hottest pure hitter in the sport
Arraez holds a prolific .383 batting average as he plays in Tuesday's All-Star Game in Seattle. He's a near shoo-in for another batting title, with Ronald Acuna Jr. of the Atlanta Braves next at .331.
"It was a lot for me, and I was especially surprised because I got my batting title last year and then I didn't think somebody would trade me to the Marlins," Arraez said. "Then when they traded me, I said, 'OK, now I've got to go there to the Miami Marlins and enjoy my team and play baseball there.'
Arraez, 26, has been so good that the .400 chatter has begun. No player has reached that mark since Ted Williams of the Boston Red Sox hit .406 in 1941.
Arraez can take a shot at it since he's a virtual hit machine. He's had 35 multiple-hit games, including five on three occasions. He's also has struck out just 19 times in 86 games.
The most recent best run at .400 was halted by the player's strike of 1994 with 52 games left in the season. Tony Gwynn of the San Diego Padres was hitting a sizzling .394 after play was halted following games of Aug. 11.
In 10 August games, Gwynn was 19-for-40 (.475) and had raised his average nine points. But the eight-time batting champion didn't receive the chance to continue his run.
Players like Rod Carew, George Brett and Ichiro Suzuki are other hitters who have put up high-average campaigns.
And Arraez was beaming when Ichiro told him he was his favorite hitter to watch.
"When he told me that, I told him he's my favorite hitter, too," Arraez told USA Today. "When I started (pro ball) with the Twins in 2013, I started following him. I saw him hit the ball to left field, hit the ball to the middle, and he did that every time. It was amazing to me."
The pressures of trying to hit .400 always creep up in a long season but now players have social media and constant 24/7 chatter about their performance.
As Dodgers first baseman Freddie Freeman points out, there is no getting away from the scrutiny.
"You have social media to regular media," Freeman told USA Today. "You have a ticker on MLB Network. And MLB Network is in every single clubhouse that shows what his batting average is, and the .400 chase.
"I think that's what's so hard. It's always in your face. Now, everybody is expecting you to get hits. For him to even sit at .390-something this long is pretty incredible in today's game."
Arraez knows the challenges. He isn't going to shy away from .400 talk and he doesn't plan to get consumed by the pursuit.
"Baseball is hard," Arraez said, per the Miami Herald. "Hitting .400 is hard -- even hitting .300 is hard -- but it's not impossible. I just go out there and want to get a hit every at-bat."
--Field Level Media