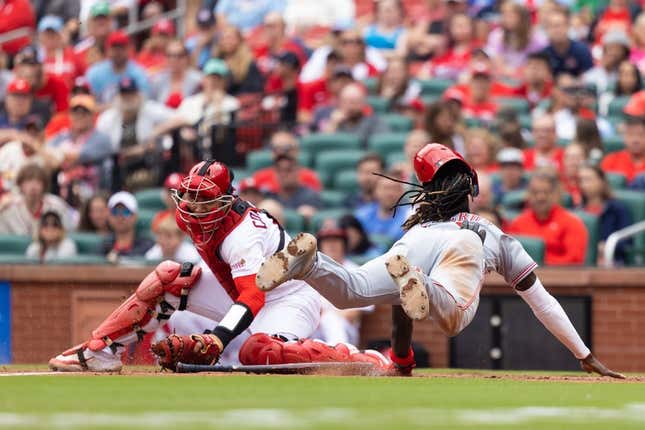 For all the recent positivity around the Cincinnati Reds' youth movement, there remains plenty of uncertainty around the Kansas City Royals' future plans
How running an NFL team is like running a restaurant | Chef Emeril Lagasse
The teams begin a three-game series in Kansas City on Monday, and Cincinnati will be bringing to town one of baseball's most buzzworthy players in third baseman Elly De La Cruz.
The 21-year-old is 8-for-22 (.364) with a home run, four RBIs and three stolen bases in his first six games since being brought up from Triple-A Louisville last week. He scored the go-ahead run and had two hits, an RBI and a steal in Cincinnati's 4-3 win over the St. Louis Cardinals on Sunday.
"He's a special player," Reds outfielder Will Benson said. "I can hands down say I've never played with a player like that. I've played with really good hitters like Elly, but I've never seen a complete package like that before.
While Cincinnati has gone 24-20 since opening the season with a 7-15 mark, Kansas City has been outscored 41-14 during its current six-game losing streak.
The Royals were swept in three games over the weekend by the Baltimore Orioles, who cruised to an 11-3 win in the finale on Sunday. Kansas City has scored a total of eight runs in its last five games
"It's been a handful of days now where we've struggled to score," Royals manager Matt Quatraro said. "Nobody is going to be happy with that. These guys are all diligent workers. They give their best, and when it's not coming through or getting the results, it's frustrating.
Kansas City will send right-hander Zack Greinke (1-6, 4.59 ERA) to the mound in the series opener. He is seeking his first victory since May 3, and in his last start, he gave up five runs over 4 1/3 innings in a 6-1 loss to the Miami Marlins on Tuesday.
Greinke, 39, has provided a strong veteran presence in the young Royals' clubhouse. He has gone 1-2 with a 3.00 ERA in six home starts this season
"Whether it's five, six, seven innings, whatever it is, you can count on him to keep you in the game," Quatraro said. "Being able to control all the stuff going on around him. Not just facing hitters. He's great with the run game. He's great at fielding his position. Calm demeanor. Just all of that."
Greinke is 8-2 with a 2.38 ERA in 14 career starts versus Cincinnati and has completed at least six innings in 13 of the 14 starts. He last faced the Reds on July 19, 2017, when he allowed three runs over five innings as a member of the Arizona Diamondbacks
Cincinnati will counter with right-hander Luke Weaver (1-2, 6.27), who escaped with a no-decision on Tuesday after allowing a season-high seven runs over 3 2/3 innings against the Los Angeles Dodgers.
Weaver, 29, is looking to snap a five-game winless streak. He has given up a total of 15 runs with a 25-to-4 strikeout-to-walk ratio over 25 1/3 innings in that stretch.
Weaver is facing his former team after posting a 5.59 ERA in 14 relief appearances with Kansas City last season.
Kansas City will be facing a rising Cincinnati team led by an impressive group of rookies, including De La Cruz, starting pitcher Andrew Abbott and infielder Matt McLain.
"Their level of preparation when they've gotten here is really incredible," Reds manager David Bell said. "So we've talked about how our player-development system deserves a lot of that credit, and they're just really good players. So it's been an easier transition than maybe it should be so far.
--Field Level Media