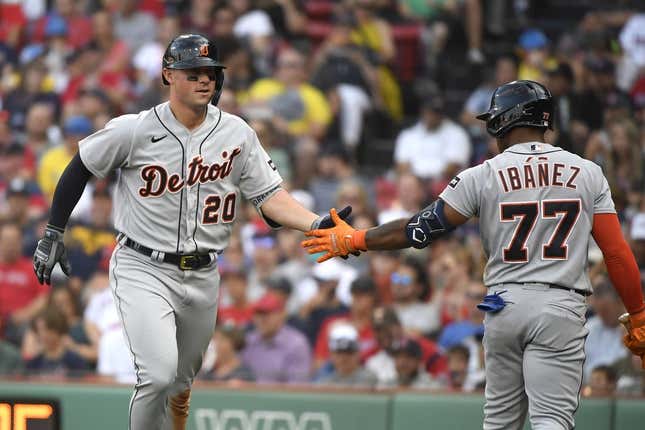 The Detroit Tigers' youth movement continues to face the occasional speed bump, but the past few weeks have provided reason for optimism.
Is Texas or Florida State a bigger national title contender? | Agree to Disagree
The Tigers continue their nine-game road trip when they open a four-game series against the Cleveland Guardians on Thursday.
Riley Greene, Spencer Torkelson and Kerry Carpenter hit a combined four home runs in Detroit's 8-7 win over the Minnesota Twins on Wednesday. All three figure prominently in the long-range plans for the Tigers, who are 7-7 this month.
"The guys that hit them today are going to hit them for us," Detroit manager A.J. Hinch said. "Tork, growing into his power. Riley, awesome two-strike homer. Carp, oppo again. Those guys are going to display some power."
Carpenter is 20-for-44 (.455) with five home runs and seven RBIs during his career-best 12-game hitting streak.
Torkelson went deep twice on Wednesday for his fourth career multi-homer game. He has six home runs over his last seven games.
"I feel like I've seen the ball well, I have a good solid approach; I'm trusting that even when ... I don't feel amazing at the plate," Torkelson said. "I feel like I can still compete up there and get the job done, which is more ... rewarding than when you're up there feeling sexy and like you can hit everything, because that's what's supposed to happen. But when you can figure out a way to grind out days that you don't really feel great — that's a lot more rewarding."
The Tigers are facing a Cleveland team that has lost three of its last five games, including a 7-2 loss to the Cincinnati Reds on Wednesday. The Guardians made a season-high four errors in the defeat.
Guardians catcher Cam Gallagher exited the contest because of a possible head injury after taking a foul tip below the mask in the second inning.
"I think he's OK," Guardians manager Terry Francona said. "It's kind of a gray area. We really don't know. With his history (we don't know). When you're talking about somebody's head, you can't mess around."
Cleveland will send right-hander Xzavion Curry (3-1, 3.39 ERA) to the mound in the series opener. He made his fifth start of the season last Friday and pitched well before giving up a two-run homer to Tampa Bay Rays third baseman Isaac Paredes in the sixth inning.
"We're trying to stretch him out, that's why we sent him out for the sixth," Francona said. "He threw a changeup to Paredes and it ended up being two runs. He's the same guy every time he goes out there and I mean that as a compliment."
Curry, 25, has posted a 4.00 ERA in three career games (one start) against Detroit.
Detroit will counter with left-hander Tarik Skubal (2-2, 4.18), who allowed five runs (four earned) over 5 1/3 innings in a 5-2 loss to the Boston Red Sox last Friday.
Skubal, 26, has struck out 36 batters and walked just six in seven starts since returning from flexor tendon surgery in his left elbow.
Jose Ramirez is 5-for-14 against Skubal, who is 0-2 with a 4.40 ERA in six career starts versus Cleveland.
—Field Level Media