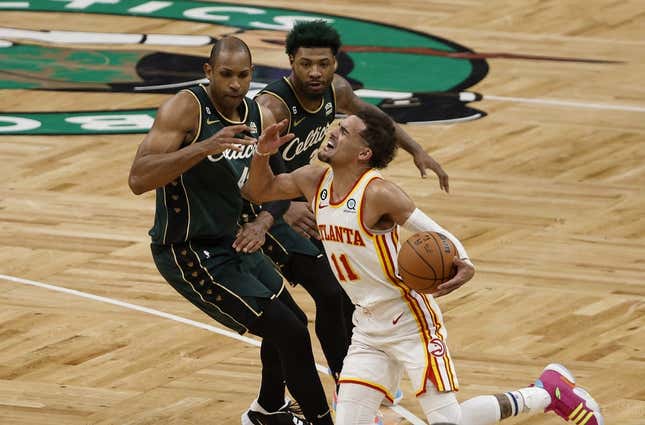 The Atlanta Hawks head home with newfound energy and the return of a missing piece of their lineup, knowing a win in Game 6 on Thursday will square their first-round playoff series with the Boston Celtics
Will South Beach Flu give the Heat home court advantage? | Keep it a Buck(et)
Atlanta won 119-117 in Boston on Tuesday despite playing without starting guard Dejounte Murray, the team's second-leading scorer, who was suspended for a game for bumping a referee at the end of Game 4. The win cut Boston's series lead to 3-2.
"Now we've got to let it go and get ready for another one," Atlanta coach Quin Snyder said. "We lost Game 4 at home and we're going back for another one and we have to have the same mindset. We were different (Tuesday) than we were in Game 4."
An Atlanta victory would force a deciding Game 7 on Saturday at Boston.
Said Boston forward Jaylen Brown: "Our challenge is to get ready for the next one. We've been in situations like this before. You can't look around and point fingers. You have to take ownership of the situation. Got two chances to win one."
The Celtics are trying to not make too much of the setback
"That's the playoffs," Celtics coach Joe Mazzulla said. "That's how it is. You just have to work through it.
The Celtics could start by finding a way to tamp down Atlanta guard Trae Young, who hit the game-winning 3-point shot with 2.8 seconds remaining. With 7.3 seconds left, Young took the inbound pass, faked a drive and stepped back well behind the 3-point line for a 30-footer over Brown
Young responded with a steely-eyed shiver.
"It's 'Ice Trae' time," Atlanta forward John Collins said. "He's clutch. He wants to be in that moment. He wants the big shot. It's what he does."
Said Young: "I just had to trust in what I've done my whole life and shoot it with confidence."
Young scored 38 points, giving him three consecutive games with at least 32 points and 11 career playoff games with at least 30. He played all 24 minutes of the second half and 44 minutes for the game.
"It's challenging to sub at a lot of times," Snyder said. "We were going run him the whole first and third quarters. At the end of the third we felt like he needed be right there to keep the game close and not let it get away."
Murray's return should give Snyder more substitution freedom. Murray is averaging 25.3 points and 5.8 assists in the playoffs.
Boston got another outstanding game from Brown, who scored 35 points and is averaging 35.6 points in the series. But Jayson Tatum, who entered the game averaging 28.5 in the playoffs, was limited to 19 points.
"We just didn't execute the way we normally do down the stretch," Mazzulla said. "They know. We'll just focus on what we did well and how we can get better."
The teams split the first two games of the series at Atlanta. The Hawks won 130-122 in Game 3, but Boston won 129-121 in Game 4
Boston swept the three-game regular-season series with the Hawks and won twice in Atlanta
--Field Level Media