Just a day ago, we criticized ESPN's series of "all-access" puff pieces featuring Stephen A. Smith and Floyd Mayweather's collection of supercars. The Worldwide Leader somewhat made up for this today with a full half hour of Outside The Lines dedicated to illustrating "Money" Mayweather's long history of beating and intimidating women. While the details of his violent past presented by OTL weren't new, the network did confront Mayweather with questions about why a serial woman batterer ought to be allowed in the ring. The boxer's response is chilling:
That's the reaction of a man who makes no connection to his crimes, takes no responsibility for them, and truly believes he has done nothing wrong. We've heard the "only God can judge me" line before, but never with the terrifying promo bit.
But it's the Nevada State Athletic Commission that turns out to be the surprise villain in ESPN's eyes, and rightly so. Just as the NFL can suspend Greg Hardy for beating his girlfriend, the NSAC retains all power to license a fighter of Mayweather's age for any bout in that state. The OTL episode highlights how there was essentially no debate on the commission with regard to Mayweather's past or his refusal to apologize for it:
OTL: You can suspend licenses for somebody who is arrested for anything north of a traffic violation. And you didn't do anything when a guy assaulted the mother of his children in front of his kids.

Commissioner Pat Lundvall: I disagree with your characterization strongly. The criminal justice system had decided what this man's punishment was .A judge had made that decision. And we paid respect to that decision.

OTL: The optics. It just doesn't look good, does it?

PL: The optics are your business. The optics are not my business.
The implication is clear, here: Floyd Mayweather makes us money, and we don't give a damn what he does when he's not in a Las Vegas boxing ring. (The commission regularly suspends fighters for testing positive for marijuana.)
Sadly, ESPN has elected to bury this episode in one of its lowest-performing time slots (around 350,000 viewers on a weekly basis), though it will air again on Sunday morning. The Stephen A. Smith "Behind The Scenes" 30-minute feature about Mayweather's luxurious home and fancy cars will air six times. Two of those airings are in prime time, and one of them will be on a national ABC broadcast.
[ESPN]
G/O Media may get a commission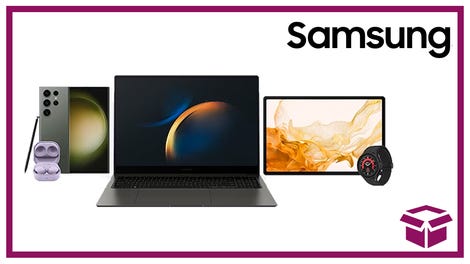 24 hour deals
Discover Samsung - Daily Deal
To contact the author of this post, write to tim@deadspin.com (PGP key) or find him on Twitter @bubbaprog.