In 1994, as Dan Marino hustled to the ball and motioned for a spike to stop the clock, he at least nodded to Mark Ingram to be ready for a pass. Matthew Stafford didn't tell anyone he had a game-winning sneak planned, because even he didn't know he was going to do it until he reached the line of scrimmage.
Stafford, to The MMQB:
"So I'm on the line, and everyone in the stadium thinks I'm spiking it, and that was the plan,'' Stafford said. "The other 10 guys [on offense] thought I was too. I thought I was—but then I saw a couple of their guys, almost standing up, and I just had this thought: Maybe I could make it by sneaking, or just putting the ball over the line. Maybe that was our best chance.''
Or, more succinctly, "We were that far; shoot, I'm going to get that." He got it. (He got it twice, rolling off the pile to his left just in case he hadn't gotten it the first time. A replay showed he had.)
G/O Media may get a commission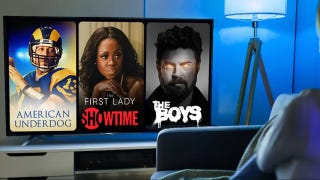 UNDER $1
99¢ Prime Video Channels
He about gave the head coach a heart attack there," Jim Schwartz joked. But maybe, in his fifth year in the league, this is how Matthew Stafford evolves. The strong and accurate arm has always been there, but at age 25 Stafford appears to be putting it all together.
With a bone-thin receiving corps outside of Calvin Johnson, Stafford's on pace for just 12 interceptions, by far the fewest of his career—even including his "breakout" 2011 season. He's no longer forcing throws, and he's reading defenses even before the snap: The two longest throws on that epic last drive came at Cowboys rookie safety Jakar Hamilton, called up from the practice squad for his first NFL game. Hamilton was in on the last drive after Barry Church went down with an injury, and Stafford looked for him. First he froze him by looking right before going left for 40 yards to Kris Durham, then he muscled a throw in ahead of Hamilton's soft coverage on Johnson on the 22-yarder that would set up the fake spike. The Lions should never have been able to throw against what was essentially single coverage with the Cowboys rushing four, but that's exactly what happened because Stafford had mentally noted the rookie DB forced into the game.
And Matthew Stafford's balls grew three sizes that day.