Lawyers for both sides in the Derrick Rose trial made their closing arguments today and the proceeding ended the way it began—with both sides telling vastly different stories about what happened in the early hours inside Jane Doe's Los Angeles apartment back in 2013.
As through much of the civil court case, both sides called each other liars, both sides said they alone were telling the truth, and both sides said the text messages and phone call logs used in the case proved them right.
Rose's lawyer, Mark Baute, said stereotypes of black men were being used against his client and the entire case against Rose was fake and made up for money. He later added that the media loves "taking a black man down."
Doe's lawyer, Waukeen McCoy, said his client was telling the truth and being slut shamed.
G/O Media may get a commission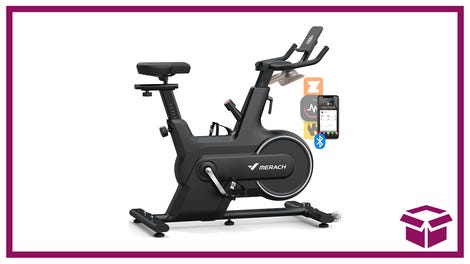 14% off + Coupon
Merach Indoor Cycling Bike
These are their final words to the jury, in the order they were presented to the jury. Closing arguments from all the lawyers lasted until close to 5 p.m. The jurors were sent home soon afterward and are expected back Wednesday morning to deliberate.
Closing arguments for Jane Doe
McCoy said what happened to his client was a classic case of gang rape, an example of "three men running a train rape" over Doe. She brought the lawsuit because it was the only way she could hold them accountable and the courtroom, he told jurors.
McCoy went item by item down a list of inconsistencies in the accounts of that night from Rose, Ryan Allen, and Randall Hampton, the three men accused of raping Doe. Rose and Hampton made up the story about Doe having sex with them at the Beverly Hills house, he said, to bolster their claim that they had consent, which they did not have.
"These men," he said, "are sexual deviants."
As for lies Doe told in text messages the day before, those were "red herrings" and being used to slut shame his client, McCoy said. He pointed to the testimony of Jessica "Kendra" Groff as proof that the stories about what happened in the Beverly Hills house as told by Rose, Allen, and Hampton didn't make sense.
McCoy went over the testimony of several of their witnesses. The ex-roommate who said she came home and saw the men in the living room. The former coworker who said that Doe was acting weird at work and he told her to get a lawyer and go to the police. He told jurors not to believe the former friends called by the defense. No, she did not tell everybody about the rape, he said, because she was embarrassed, confused, and distraught.
He fought back against the defense's portrayal of Doe as a woman that Rose kept around just for sex. He said they did exchange Christmas gifts, celebrated Valentine's Day but late, and sometimes would get together without having sex. This explained why she didn't immediately go to the authorities, he said, because Doe cared for Rose.

"She never had a motive to take his money," he said. Calling her a gold digger was "an insult to her character and type of woman she is."
McCoy said his client wants them to be held accountable and to realize what happened was "morally and legally wrong." He went over Rose's testimony about how the text messages hours earlier gave him consent. At one point, McCoy repeated one line from Rose's deposition: "We men, you can assume."
"He is not above the law," McCoy said or Rose, "and must be treated like everyone else."
Closing arguments for Derrick Rose
Rose's lawyer, Mark Baute, started out by calling his client "one of the nicest young men I've ever met." He talked about all the people Rose supported with his income. As for discrepancies between all three men's stories, Baute said that was proof they were telling the truth because liars would have coordinated better.
He insisted that Doe just wanted money, and he restated his point several times throughout his arguments.
"She wants money, and she's upset that Derrick ended the sexual relationship," he said, later adding that she was "not a real rape victim."
Doe, he said, was a liar. "She lied 50 times on the stand," he said. He said that Groff was lying too and that she had tried to sleep with Rose at the Beverly Hill homes, but Rose turned her down.
He emphasized that there was no physical evidence, saying that was because Doe made sure all the evidence was destroyed or never collected. Even her text messages, he said, were designed to help her legal proceedings. The text messages about weed and ecstasy and going to a sex store weren't just lies, he said, but were about building a "great rape case."
"She is leaving a paper trail for a fake rape case," he said, later adding that Doe's lawyers probably deleted some text messages that the defense never found out about. "You can believe," he said, "they deleted every one that hurts them."
Later in the arguments, he said the terms deviant and gang rape "tap into stereotypes" of black men. Doe's entire legal team are men of color, and McCoy, who gave closing arguments, is black. Baute said that was a matter of using a black man to attack other black men. He later said that if the three men were white college kids the whole story of their night of sex would sound mundane because their sex that night was normal. The media, he said, loves "taking a black man down."
Baute did have good things to say about some of the text messages because he said they showed that Doe was sober and Rose and his friends were clearly going over to have sex. If they were going to rape her, Baute said, they wouldn't have gone over to her home, in a neighborhood they didn't know, with her roommate coming home, and bumbling around in the living room with a PlayStation. They would have raped her at the Beverly Hills home.
"These guys are so far from breaking in and rapists, it's almost comical," he said, calling Doe the shot caller that night who told the men when they came over "one at a time, gentlemen."
He insisted his client understood consent. His answers might seem crass, he explained, because Rose is "plainspoken."

Near the end, Baute threw up a slide titled "[Doe] Is a Pathological Liar" and told the jurors: "Regret is not rape."
Closing arguments for Randall Hampton and Ryan Allen
Mike Monico opened by asking jurors to consider, "What this woman has put [his clients] through." He summed up several of Baute's points, that there was no evidence of drugs or breaking in or rape, before asking, "How could she have the nerve to come here."
Doe's testimony that she was drunk, he said, was just an excuse for her to say over and over again that she didn't remember things. He called her testimony comical. He went over the lies in her text messages and added that Doe "has tried to trick people for much of her life, men especially."
Monico, who near the start of the trial asked the judge if he would let Doe cry, came back to that again in his closings. He said: "She has no evidence, but she can cry."
Her lawyer, he said, "represents a lie." He smacked a board made by Doe's lawyers showing phone calls and text and said "this is a lie." He called her entire case fake, "fake in almost every sense of the word." Near the end, he referenced her ability to cry again, telling jurors, "but she's an attractive woman and she cries."
Response from Doe's lawyers
Doe's lawyer was allowed to respond to Baute and Monico. McCoy said, "Wow, this case is not about race." It's about rape, he said, and the defense lawyers closing arguments were "slut shaming." As for the claims she designed a fake rape case, McCoy said, "How can she orchestrate all this? It makes no sense."
At one point, McCoy tried to bring up that his client had never agreed to group sex before. As with much of the trial, even in closings one of the lawyers had bumped up against the restrictions put in place on what about Doe's sexual history could be brought up.
Judge Michael W. Fitzgerald reminded McCoy of that, saying the restrictions were important "for future rape victims." McCoy later said "this is why women don't come forward," to which the defense lawyers objected. Their objection was sustained.