Art Briles and Shawn Oakman were in attendance for Baylor's 38-10 win over Rice on Friday, a surprise, considering the former head coach is in the early stages of his faux-apology tour and the former defensive end is awaiting his day in court after being indicted for sexual assault.

As there is nothing legally preventing either of them from attending a Baylor football game, the story should end here; because this is Baylor, and institutional control seems to be a foreign concept to those in charge of the Bears program, it does not.
During the game, both Briles and Oakman were spotted amongst the crowd. Briles spoke with ESPN, saying he didn't want to be a distraction while continuing to be one; Oakman was photographed by reporter Jessica Morrey of KCEN. After the game, Morrey noticed the 6-foot-8 Oakman entering the Baylor locker room. Considering Oakman is neither a part of the team or an acceptable post-game speaker, Morrey brought his visit up to Bears head coach Jim Grobe during Tuesday's press conference. Grobe denied knowing who Oakman was, let alone that he was in the team locker room.
G/O Media may get a commission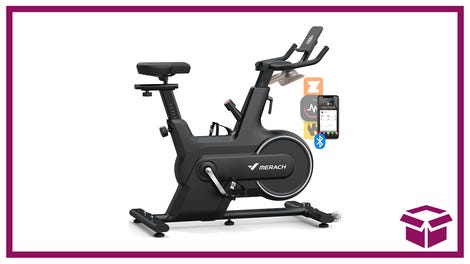 14% off + Coupon
Merach Indoor Cycling Bike
Baylor quarterback Seth Russell confirmed Oakman entered the team locker room after the game while speaking with Ben Baby of The Dallas Morning-News, though he declined to share what Oakman said to the team. Russell offered sympathetic thoughts to his former teammate, saying Oakman is going through a "tough time." In speaking with ESPN, Russell also aired his supportive stance on Briles:
"He's a top-notch guy," Russell said. "A lot of things are being said bad about him but I know in my heart he's one of the best guys I've ever been around. He's a father figure, for sure. He does the right things when he needs to. He just got caught up in the wrong situation. He's going to support us any way he can. I love him to death, and he's a great coach and a great guy."
In summation: Art Briles, the head coach during a time in which multiple cases of sexual assault were ignored, and Shawn Oakman, one of the players now accused by the state of sexual assault, attended a Baylor game. Briles, per ESPN, left at halftime; Oakman, per Seth Russell, the Bears's starting quarterback, stuck around the whole game and somehow was allowed access to the team locker room. All the while, Jim Grobe, the coach installed to fix the shitshow Briles, Oakman, and countless others left behind, doesn't know who Oakman is or that he spoke to his team, and Seth Russell, the starting quarterback, has nothing but glowing reports on both men.
Update (4:50p.m.): KCEN released video of Oakman entering the team locker room, cutting it next to Grobe's comments on the visit.
Update (10:42 p.m.): Baylor has released a statement about how Oakman was allowed inside the locker room.