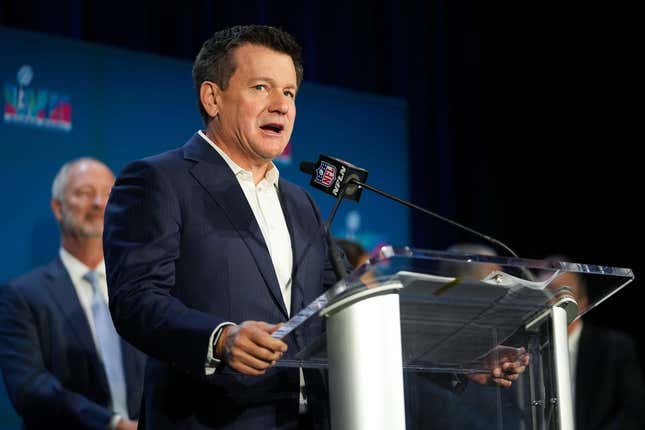 Former Arizona vice president Terry McDonough filed an arbitration claim to NFL commissioner Roger Goodell accusing Cardinals owner Michael Bidwill of gross misconduct and cheating, among other indiscretions, multiple reports said Tuesday
Air Jordans are more American than McDonald's French fries | Deon Cole's Ultimate Sports Fantasy
The NFL confirmed receipt of the claim and the Cardinals have responded in length to McDonough's accusations, which also include harassment and discrimination
The Cardinals called the accusations "outlandish.
Among McDonough's claims:
--Bidwill had McDonough and then head coach Steve Wilks use burner phones to communicate with former general manager Steve Keim, who was serving a five-week suspension after pleading guilty to DUI charges.
--Bidwill reprimanded and subsequently demoted McDonough for objecting to the use of the burner phones, which McDonough claims to still have in his possession. (The Cardinals said Bidwill put a prompt end to the use of burner phones once he found out about it)
--Bidwill "also subjected McDonough to bullying, mocking, harassing and abusive behavior," per ESPN.
--Bidwill sabotaged Wilks' first and only season as head coach of the Cardinals. Wilks was fired after one season
--Bidwill treated a Black employee and two pregnant women poorly, creating "an environment of fear for minority employees."
McDonough is seeking damages for emotional distress and breach of contract, per ESPN.
The Cardinals have 20 days to formally respond to McDonough's claims. Goodell then will determine whether the claims are "football-oriented" or not and whether the dispute will be arbitrated
"If an arbitration process results, we will welcome the opportunity to set the record straight in that forum and demonstrate how these claims have absolutely no validity or hard basis," the Cardinals said in a statement, posted online from an independent public relations firm
--Field Level Media