The Broncos manhandled the Cowboys 42-17, just a thorough annihilation in every aspect of the game. But almost immediately, most of the blame for the loss—or at least the loudest of the criticism—fell upon Ezekiel Elliott, who had the worst game of his life.

Elliott, who's averaging 4.9 yards per carry in his NFL career, had just nine yards for eight carries on Sunday. He was asked when the last time that happened was. He said "never."
There were a striking lack of carries for Elliott, but it's not especially weird that Dallas would give up on the run when it went down 14 points early, and 18 after the first drive of the second half. And even when the Cowboys tried to run, they got nowhere. Denver's 3-4 defense bottled up the box, while the OLBs consistently managed to bring a pass rush. Man-to-man coverage was good enough to thwart Dak Prescott, who was every bit as ineffective as Elliott. Sometimes good players have bad games, and sometimes the game flow dictates abandoning the run. There's nothing all that strange about how yesterday played out.
"We just were getting dominated up front," Elliott explained. "We couldn't get any movement off the ball. We couldn't establish the run game."
But it's one play on which Elliott didn't touch the ball that is being seized upon. Here, in the third quarter with the Cowboys down 18, Elliott chose not to pursue Chris Harris after the Broncos DB intercepted the ball. He put his hands on his hips as he watched Harris eventually brought down by an O-lineman.
G/O Media may get a commission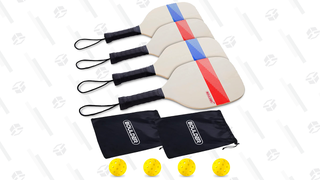 It's Pickleball
Pickleball Sets
And here comes the "quit" narrative. LaDainian Tomlinson, in postgame analysis for NFL Network:
I didn't like the way he quit today. I didn't like that. He absolutely quit on his team today.
A weirdly strident Peter King, who says that the Cowboys need to "discipline" Elliott for giving up on the interception:
It's one thing to be frustrated. It's another thing to quit. Elliott is a good football player who quit on a play. Don't sugarcoat it. He quit on a play in the middle of a game that was still a game. And he should not be allowed to get away with it.
More King:
To give up on that play was horrendous. Dallas coach Jason Garrett has to do something about it—if he has not already. Owner Jerry Jones should back his coach 100 percent when Garrett does discipline Elliott. And if Garrett does not, then there's something seriously wrong in Dallas.
Just in case you were wondering where King stands, here are the excellent tags on that MMQB story:
Sure, Elliott quit on that play, but I find it very hard to care too much. I'm genuinely confused by how over-the-top King is here. This doesn't seem egregiously worse that what you'd see from tons of receivers if you ISO'd them after a pick. But more than that, Elliott was going the wrong way. He wasn't going to catch Harris. Nobody wants their star RB risking injury just to pretend to try to make a meaningless tackle late in a three-score game. What people want, it seems, is for Elliott to have at least jogged back toward the ball the way most players do in that situation, made it look like he was in pursuit, and then, well, aren't we bizarrely asking to be lied to? For Elliott to help us maintain an illusion that athletes go all-out at every single moment, even though we know it's not true? Now we're just talking about optics instead of actual football.
Of course, it's impossible to keep any discussion of Ezekiel Elliott confined to actual football, isn't it? Even if you believe Elliott was railroaded by the NFL's investigation, you can't read the report and not come out thinking he's a bad person. I don't think you can underestimate the desire of fans and even reporters to want to criticize him. I freely admit to feeling a rush of excitement when I saw all the headlines today about Elliott quitting on his teammates. Yeah! Fuck that guy!
I think Peter King tipped his hand a little:
[V]ery often, Dallas players get passes, because the Cowboys take chances on great players who have character or behavior or ethos flaws. Elliott might have all three of those.
I don't think we're only talking about a lack of hustle on a single play anymore.