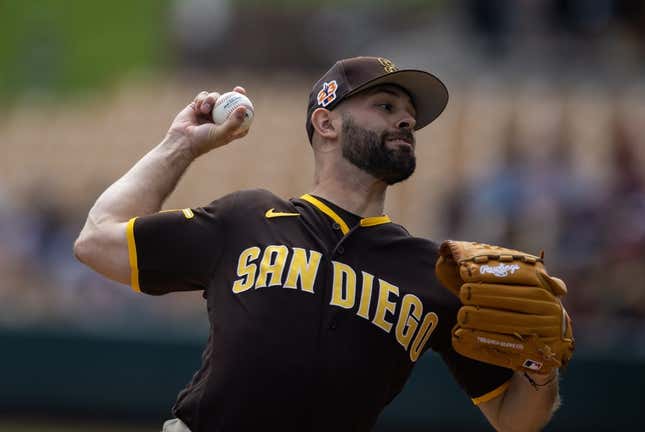 Any time the Milwaukee Brewers and San Diego Padres get together, reunions break out
Aaron Rodgers should go full Joe Namath | Comedian Bert Kreischer
The teams have been involved in two recent major trades.
Former Brewers Trent Grisham and Josh Hader play key roles for San Diego, while former Padres on the Milwaukee roster include Eric Lauer, Luis Uris (currently on the 10-day disabled list with a left hamstring strain), Owen Miller, Luke Voit and Javy Guerra
But while the Padres expect to face the left-handed Lauer in Thursday's opener of the four-game series in San Diego, the Brewers are hoping they won't be matched against former closer Hader
Not only will the presence of Hader likely forecast a Padres' victory, it will remind Brewers fans of a very unpopular trade made last Aug. 1
With both teams in the playoff race, the Brewers traded their All-Star closer Hader to the Padres for four players -- only one of which remains in the Padres system
After a slow start, Hader helped the Padres reach the playoffs as a wild card then played a major role as San Diego reached the National League Championship Series. Meanwhile, the Brewers fell a game short of reaching the playoffs
The Hader trade angered many Brewers fans, who saw it as a sign that the National League Central team was embarking on a cost-cutting movement
Meantime, the Padres again took a big dip into owner Peter Seidler's pockets this past offseason, signing free agents Xavier Bogaerts, Nelson Cruz, Matt Carpenter, Michael Wacha and Seth Lugo
After the first two weeks of the 2023 season, the Brewers are off to an 8-4 start. The Padres are 7-6, although they did just go 4-3 on a road trip to the Atlanta Braves and the New York Mets, a pair of teams that won 101 games in 2022
"Any time you go east and have a winning record against teams like the Mets and Braves, it's a good trip," said Padres manager Bob Melvin, who added, "I thought we could might have one more.
But while the Padres were flying across the U.S. from New York on Wednesday night, the Brewers made a one-hour hop from Arizona, where they lost the rubber match of a three-game set Wednesday afternoon
Right-hander Nick Martinez (0-1, 6.17 ERA) will start for the Padres while Lauer (1-1, 7.71 ERA) was originally scheduled to start Friday's game for Milwaukee but might be moved up to Thursday, creating an interesting problem. The Brewers haven't settled on the starting pitcher in any of the last three games of the series
This would be the 27-year-old Lauer's first start in San Diego since the Padres traded their first-round pick in the 2016 draft with Urias to the Brewers before the 2020 season for Grisham and pitcher Zach Davies
Lauer has given up eight runs on 12 hits and five walks over 9 1/3 innings in his first two starts this season. In two career starts against his former team, Lauer is 0-0 with a 1.50 ERA and 1.083 WHIP -- giving up four runs (two earned) on 10 hits and three walks with 10 strikeouts over 12 innings.
While the Padres are fielding a veteran lineup, the Brewers could have three rookies -- outfielders Garrett Mitchell and Joey Wiemer and second baseman Brice Turang
"I think it brings a different type of energy when you have young guys," said Mitchell. "We're going out there and not only are we trying to play, we're trying to stay here. Nothing's ever guaranteed in this game."
Martinez has given up eight runs on 10 hits and seven walks with nine strikeouts over 11 2/3 innings in his first two starts this year. He made two appearances (one start) against the Brewers last year, giving up four runs on nine hits and three walks with nine strikeouts in as many innings
--Field Level Media