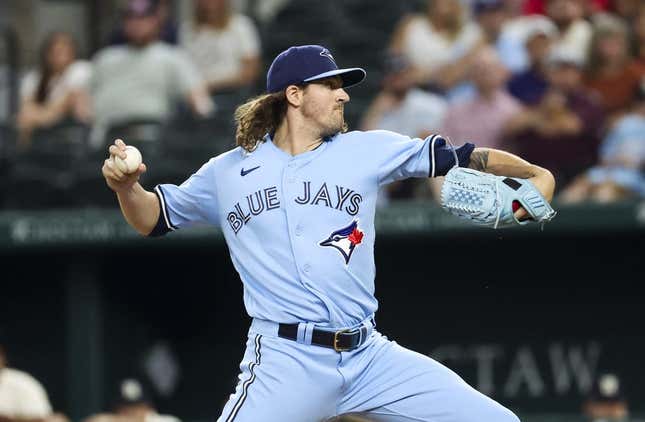 The San Francisco Giants will pay a visit to their former first baseman Brandon Belt on Tuesday night when they head to Canada for a matchup with Toronto Blue Jays
How running an NFL team is like running a restaurant | Chef Emeril Lagasse
The reunions do not end there. Former Giants right-hander Kevin Gausman (7-3, 3.10 ERA) is the scheduled starter for the Blue Jays in the opener of a three-game series
The Giants had not listed a starter for Tuesday, but former Blue Jays right-hander Ross Stripling (0-2, 7.24) is expected to see action in the series after being activated from the injured list on Sunday. He was out with a back issue
Belt played for the Giants from 2011-22 before signing with Toronto as a free agent in the offseason
"It's playful," Giants manager Gabe Kapler said. "That's how I see it. He's one of the funnier guys that I've been around. Very quick-witted. Even reading his quotes over the last few days, it's been a lot of fun for me, and I think everybody around here. Other than that, he's just going to be another player in another uniform that we're trying to get out.
Gausman pitched for the Giants in 2020 and again in 2021, when he was an All-Star, before Toronto signed him as a free agent. He is 0-1 (4.50 ERA) in two career starts against the Giants
Stripling pitched for the Blue Jays from 2020-22 before signing with the Giants. When Stripling was reinstated Sunday, relief pitcher Luke Jackson (back stiffness) was put on the IL
After a 4-5 road trip, the Blue Jays took two of three from the Oakland Athletics over the weekend to open a nine-game homestand
The Giants are coming off a 5-2 homestand and have won 12 of their past 14 games, but they failed to earn a sweep of the Arizona Diamondbacks on Sunday with a 5-2 loss
Giants first baseman LaMonte Wade Jr. (lower back stiffness) was out of the lineup Sunday. The Giants hope Monday's day off will be enough recovery time to get him back in the lineup in Toronto. Wade has been bothered by both his back and his side
"I think they're all sort of related," Kapler said.
Toronto took the deciding game of their three-game series with Oakland by rolling to a 12-1 victory Sunday with the help of some poor outfield play by the Athletics that swelled the margin.
Toronto's George Springer reached a milestone when he led off the first inning with a home run. It was his 55th career home run to lead off a game, moving out of a tie with Alfonso Soriano and alone into second place on the all-time list behind Rickey Henderson (81).
"I am who I am," Springer said. "I have my own style of hitting. I'm not going to back off. I'm not hitting first because I take a lot of pitches; I'm hitting first because I'm me."
The Blue Jays are 7-17 within the American League East and 36-19 against all other teams
"I know what our record is outside of the AL East," Blue Jays manager John Schneider said. "That will be interesting to see how it plays out. We've been talking about it for the last week or so that ... it's time to just show who we are. No matter who we're playing and no matter where we're playing, it's time to show who we are consistently.
--Field Level Media