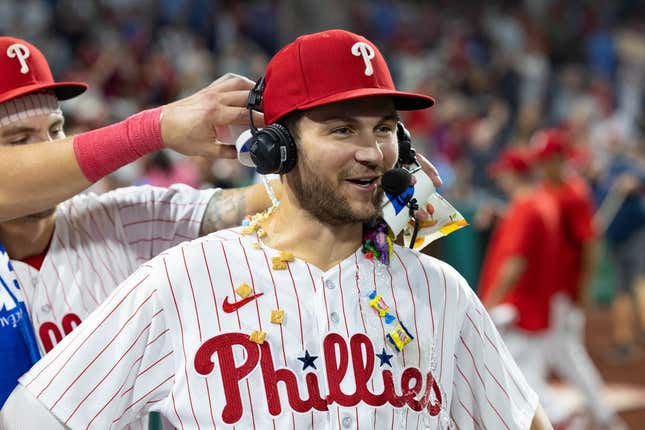 The Philadelphia Phillies would like to see this version of $300 million shortstop Trea Turner -- and their suddenly Turner-supporting fans --- on Sunday and for the rest of the season
How running an NFL team is like running a restaurant | Chef Emeril Lagasse
Philadelphia takes on the visiting Kansas City Royals to conclude this three-game series Sunday, with the Phillies trying to keep a wild-card spot in the National League, while the dogged Royals, who won seven in a row before Saturday, try to play spoilers in the rubber game
Turner hit a three-run homer on Saturday and it proved the difference in the Phillies' 9-6 win, sparking a second straight day of surprising standing ovations for the struggling star
He was batting just .236 going into the series Royals after putting up a slash line of .125/.197/.196 over his previous 14 games, causing Phillies manager Rob Thomson to drop Turner from his customary No. 2 spot in the lineup to eighth
After a grassroots support campaign for Turner -- roughly organized by Philadelphia radio station WIP -- Phillies fans greeted Turner with a standing ovation before his first at-bat in Friday's series opener. He went 1-for-4 and drove in a run, but the Phillies lost 7-5
But on Saturday, when Turner's sixth-inning home run cleared the fence to give the Phillies an 8-6 lead, WIP radio play-by-play announcer Scott Franzke crowed: "I guarantee you they're all standing now.
Turner added an RBI double in the eighth to provide an insurance run, drawing another ovation from fans who will see Turner in Philadelphia through 2033 under his 11-year contract
"Roller coaster is obviously the first thing that comes to mind," Turner said after Saturday's win. "To see what happened yesterday and continued today, it's a special moment between me, teammates, fans, everybody. ... That's why it's a special situation. Obviously, I hope it keeps going.
Thomson wasn't saying if he would reinstate Turner to the No. 2 spot against Royals veteran right-hander Zack Greinke on Sunday
Royals manager Matt Quatraro was ejected in the ninth inning Saturday along with outfielder Dairon Blanco, both for arguing a called strike against Blanco
"We used our speed well, but they just beat us with the long ball," Quatraro told reporters
Turner is 1-for-6 in his career against the 39-year-old Greinke (1-11, 5.32 ERA), who opposes Philadelphia right-hander Taijuan Walker (12-4, 3.99) on Sunday
Only two Royals batters have any experience against Walker: Matt Duffy is 3-for-6 lifetime against Walker, and Salvador Perez is 2-for-2 with an RBI
Walker has made three career starts against Kansas City, with a 4.20 ERA over 15 innings and hasn't allowed a home run to the Royals
Greinke is 8-3 with a 2.76 ERA in 13 career appearances (12 starts) against Philadelphia but hasn't faced the Phillies since 2018. He enters Sunday 0-3 with a 5.33 ERA in his last five starts this season
The Phillies will likely be without center fielder Brandon Marsh, who is day-to-day with a left knee contusion. Marsh came off with a limp Saturday after he crashed hard headfirst into the center field wall chasing after a triple by Kansas City's Samad Taylor in the fifth inning. X-rays were negative, but Marsh will undergo more testing Sunday morning
--Field Level Medi