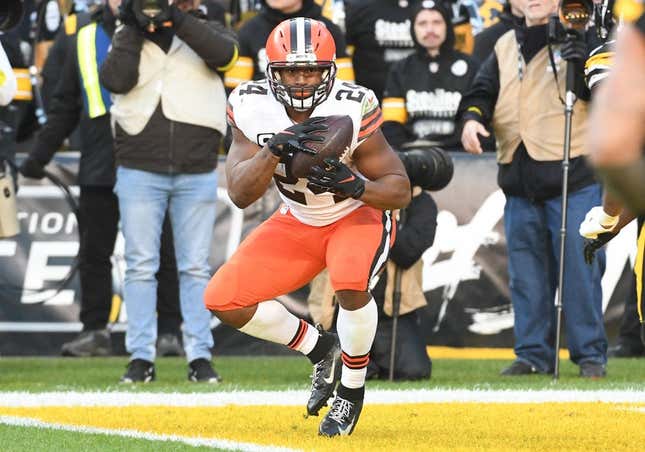 Offseason narratives focused on the devalued running back position are mostly moot in fantasy football.
Best 2022 NFL trade deadline deals?
San Francisco 49ers All-Pro Christian McCaffrey, the highest-paid player at the position, stands as the most coveted in leagues awarding points for receptions. Durability questions aside, McCaffrey fits perfectly in coach Kyle Shanahan's scheme even if it means sacrificing goal-line touches for wide receiver wizardry and the occasional Deebo (Samuel) dive.
Nick Chubb of the Cleveland Browns stands to receive more third-down work this season with Kareem Hunt gone. Based on his track record of consistency and top production, he could be the back that stands out.
But because Los Angeles Chargers running back Austin Ekeler's resume shows a TD machine who just so happened to finish tied for fifth in the NFL with 107 receptions, going headlong for Chubb is a massive leap of faith.
Here are our top 30 fantasy running backs in 2023:
1. Nick Chubb, Browns
If not for falling four yards shy of the millennium mark as a rookie, Chubb would have had 1,000 rushing yards and eight rushing touchdowns in each of his first five pro campaigns.
2. Christian McCaffrey, 49ers
Let's go with 1A instead of 2 on the ratings scale. McCaffrey remains an acceptable choice for the No. 1 pick. For reference, he had more receptions than Seattle Seahawks wideout Tyler Lockett last season, and 52 of them came after being traded to the 49ers from the Carolina Panthers in October.
3. Austin Ekeler, Chargers
Can you say contract year? With 107 receptions last season, Ekeler tied Dallas Cowboys wideout CeeDee Lamb for fifth and the Chargers, while part of the pay-your-running-back narrative we discussed up top, added only change-of-pace options in the offseason.
4. Saquon Barkley, Giants
Barkley comes with some injury worry but his floor in Brian Daboll's offense looks likely to be as a 1,000-yard, 10-touchdown performer.
5. Jonathan Taylor, TBD/Colts
Oh pay, you say? Taylor's ankle wasn't right after Week 4 and he hasn't strapped on a helmet in August while pining for a relocating in a standoff with the Colts. Trade or no trade, Taylor will get on the field at some point and don't forget he led the NFL in rushing with 1,811 yards in 2021.
6. Josh Jacobs, Raiders
Right, the money thing. Franchise-tagged and a no-show during camp, Jacobs averaged almost 100 rushing yards per game in 2022 and set a career high with 340 attempts. When he returns, he's the centerpiece of a rebuilt offense.
7. Bijan Robinson, Falcons
A dynamic back with speed and agility with open-field skill to thrive as a receiver, Robinson could jump into the top five of the position rankings as the bell-cow in Arthur Smith's scheme.
8. Derrick Henry, Titans
Henry has scored double-digit touchdowns five seasons around as the one constant in a tattered Tennessee offense that was starting a practice squad signee at quarterback late last season.
9. Najee Harris, Steelers
Harris ranked fifth in the NFL in carries in 2022 and had 39 touches in the red zone. If he gets the same opportunities this season as Kenny Pickett proves a polished passer, Harris could be in the 1,500-yard range.
10. Kenneth Walker III, Seahawks
Walker has to share the opportunities that made him a breakout fantasy back in 2022 as a rookie. The Seahawks picked a running back in the second round for the second straight year, adding Zach Charbonnet from UCLA to form a clear thunder-and-lightning tandem. Charbonnet likely is to be the goal-line back.
11. Travis Etienne Jr., Jaguars
Jacksonville added more backs, but Etienne brings the big-play ability and built-in chemistry with former college teammate Trevor Lawrence to trust he'll be the RB1.
12. Tony Pollard, Cowboys
A first-time starter, the only thing holding us back on buying higher on Pollard is head coach Mike McCarthy's desire to spread the load among multiple ballcarriers.
13. Rhamondre Stevenson, Patriots
14. Dalvin Cook, Jets
15. Aaron Jones, Packers
16. Rachaad White, Buccaneers
17. Dameon Pierce, Texans
18. Miles Sanders, Panthers
19. Jahmyr Gibbs, Lions
20. Cam Akers, Rams
21. James Conner, Cardinals
22. J.K. Dobbins, Ravens
23. Breece Hall, Jets
24. Joe Mixon, Bengals
25. Isiah Pacheco, Chiefs
26. Brian Robinson Jr., Commanders
27. Javonte Williams, Broncos
28. Alvin Kamara, Saints
29. Jamaal Williams, Saints
30. AJ Dillon, Packers
—Field Level Media