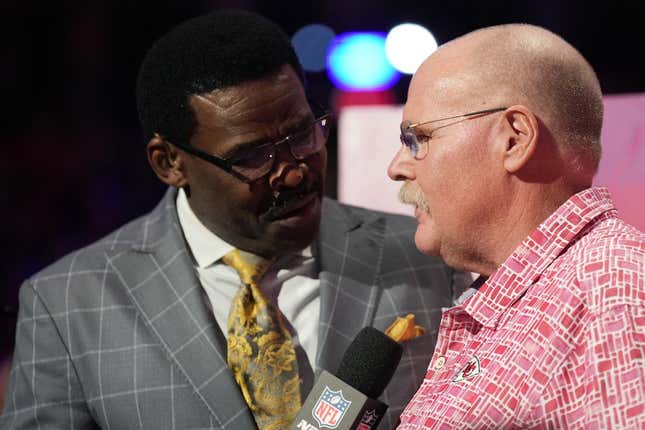 For the second time in two weeks, a judge -- this time federal -- has ordered Marriott International, Inc. to expeditiously turn over video and other potential evidence regarding an allegation made against Michael Irvin during Super Bowl week.
Marriott has until March 7 to turn over the footage, The Dallas Morning News and TMZ reported, citing court records.
Irvin is seeking $100 million in damages after a female hotel employee accused the Hall of Fame wide receiver of making "harassing and inappropriate comments" in the lobby of the Renaissance Phoenix Downtown Hotel on Feb. 5.
As a result, NFL Network removed him from its lineup of analysts and sent him home. Phoenix police told The Dallas Morning News that no criminal complaint was made against Irvin after the encounter.
A judge on Feb. 16 initially ordered Marriott to turn over video et al but Marriott balked at the ruling and it got kicked over to federal court.
U.S. District Judge Amos Mazzant gave the order Wednesday, allowing the chain to redact the woman's name.
"Michael and I are pleased with the ruling, and we thank the Court for ruling so quickly and equitably," Irvin's attorney Levi McCathern told media outlets. "We look forward to receiving the information that we believe will prove that Michael was engaged in no wrongdoing."
Irvin claimed that he was escorted from the hotel by Marriott employees.
McCathern previously told TMZ that Irvin's reputation has not only been damaged but that he lost money in the form of canceled appearances following the woman's allegations.
The 56-year-old Irvin told the News shortly after the incident that he had a brief encounter with the woman in the hotel lobby.
"Honestly, I'm a bit baffled with it all," Irvin told the newspaper. "This all happened in a 45-second conversation in the lobby. When I got back after going out ... I came into the lobby, and I talked to somebody. I talked to this girl. I don't know her, and I talked to her for about 45 seconds.
"We shook hands. Then, I left. ... That's all I know."
--Field Level Media