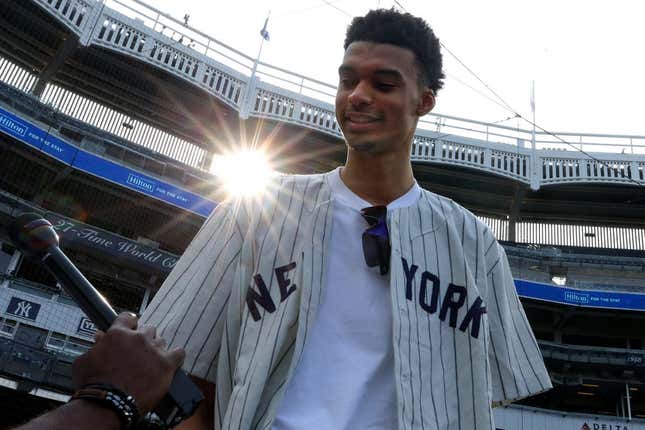 Victor Wembanyama has known where he will be playing professional basketball since the moment the San Antonio Spurs won the draft lottery last month.
How running an NFL team is like running a restaurant | Chef Emeril Lagasse
And the 19-year-old French phenom can't wait to officially become a member of the Spurs, who intend to open the draft by using the No. 1 pick on Wembanyama on Thursday night in New York.
"For me, San Antonio is synonymous with winning," Wembanyama said at Wednesday's pre-draft press conference in New York. "On lottery night, when the Spurs got the No. 1 pick, I was just thinking, I was feeling lucky that they had the pick as a franchise that has that culture and that experience in winning and making, creating good players. So I really can't wait."
The Spurs have won five NBA titles under coach Gregg Popovich and have previously hit the No. 1 overall draft pick jackpot twice with the selections of David Robinson (1987) and Tim Duncan (1997).
Both players are members of the Naismith Memorial Basketball Hall of Fame as is Popovich.
Another appealing thing about the Spurs to Wembanyama is that French players Tony Parker and Boris Diaw had successful stints with the Spurs.
San Antonio definitely needs Wembanyama, who is alleged to stand 7-foot-4. The Spurs missed the playoffs in each of the past four seasons and were a woeful 22-60 last season. San Antonio has lost more games on just two occasions.
Call it amazing timing to grab Wembanyama, the most hyped draft pick to enter the league since LeBron James in 2003.
Wembanyama isn't the least bit rattled by all the fuss about him leaving France to play in the world's top basketball league.
"I don't let this, all this stuff, get into my head because I got such high expectations for myself that I'm immune to all this stuff," Wembanyama said. "So I really don't care."
Part of what makes Wembanyama so intriguing is the fact that he is not your typical 7-foot-plus player.
Wembanyama likes to bring the ball up court and fire 3-pointers. He doesn't mind getting physical in the interior but he prides himself on his all-around skillset.
"No one is going to stop me from dribbling the ball, bringing the ball up and shooting 3s," Wembanyama said. "Nobody is going to stop me from doing that. Even though sometimes coaches in my career would try to stop me from doing that because they had to win right now.
"So it was really an everyday fight to stay true to myself, and, yeah, this is something that I'm never going to lose, for sure."
However, Wembanyama made just 27.1 percent of his 3-point attempts in 44 games for Boulogne-Levallois this season in France. He made a sizzling 75.1 percent of his two-point attempts to shoot 55.2 percent overall.
Wembanyama averaged 20.6 points, 10.1 rebounds, 3.0 blocked shots and 2.5 assists this season for the Metropolitans 92.
--Field Level Media