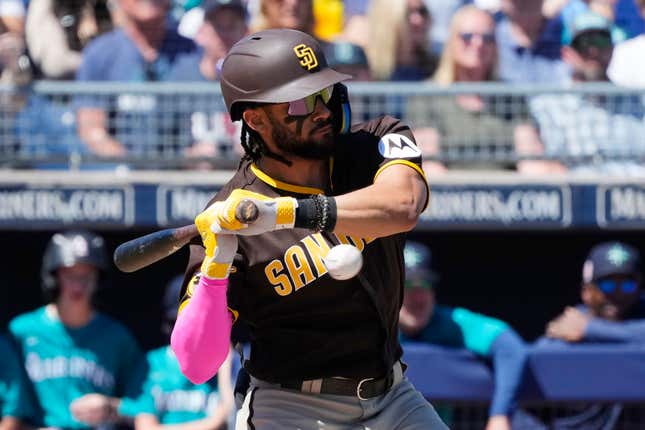 Fernando Tatís Jr. certainly looks as if he is ready for his return to the majors.
Haters don't want Tatís, Jr to become a Yankee
The San Diego Padres star, set to return to the club from his 80-game suspension on April 20, went 5-for-6 with three home runs and eight RBIs for the Triple-A El Paso Chihuahuas on Thursday night
The Chihuahuas won 19-6 against the visiting Albuquerque Isotopes with Tatís batting leadoff and playing right field.
In six games for El Paso, Tatís is hitting .478 (11-for-23) with four homers and 11 RBIs — and was called a "cheater" by one of the pitchers who served up a longball to the Padres star.
Major League Baseball suspended Tatis last August after he tested positive for Clostebol, a banned performance-enhancing substance. That ended Tatis' 2022 season before it ever began, as he missed the start of the campaign after fracturing his wrist in an offseason motorcycle accident.
In the time Tatís was away, the Padres traded for star outfielder Juan Soto last season and signed All-Star shortstop Xander Bogaerts last December. Those additions, combined with the emergence of middle infielder Ha-Seong Kim in Tatís' absence, led the club to announce during the offseason that Tatis would move from shortstop to the outfield when he returns to San Diego
Tatís 24, was an All-Star in 2021 and is a two-time Silver Slugger winner. He has 81 career home runs with 195 RBIs and 52 stolen bases in 273 career major league games. His last season, 2021, was also the first season he played more than 84 games. He led the National League with 42 home runs while batting .282, and he finished third in NL MVP voting.
Prior to the 2021 season, Tatís signed a 14-year, $340 million contract with San Diego.
—Field Level Media