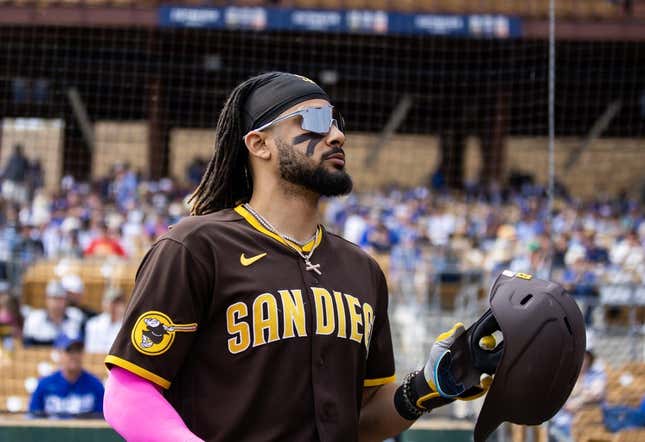 San Diego Padres manager Bob Melvin has been waiting a long time for Thursday
That's because Fernando Tatis Jr. is set to be in the Padres' lineup as San Diego opens a four-game series against the Arizona Diamondbacks in Phoenix
Will South Beach Flu give the Heat home court advantage? | Keep it a Buck(et)
Tatis hasn't played a major league game since the end of the 2021 season. He was still rehabbing from an offseason motorcycle accident last summer when he got hit with an 80-game suspension for violating Major League Baseball's performance-enhancing-drug policy.
"On a personal level, I've been waiting for Fernando to get in the lineup since I've gotten here," Melvin said, "so this is exciting for me. It's exciting for Tati. He was one of the draws for me wanting to come over here."
Shortly after the Padres get Tatis back for the opener of a nine-game, 11-day trip that ends with a pair of games in Mexico City against the San Francisco Giants, right-hander Joe Musgrove (fractured toe) is due to make his 2023 debut on Saturday against the Diamondbacks
"Personnel-wise, we're going to have a much better team," Melvin said.
They'll need it. Arizona returns home from a 3-3 trip to Miami and St. Louis as the only team in the National League West with a winning record.
Earlier in the season, the Diamondbacks split a two-game series in San Diego. The Diamondbacks stole five bases -- four during the winning rally -- in the game they won. The running game could be a key to this weekend's series
Arizona is tied for sixth in the majors with 19 stolen bases. San Diego -- with a pitching staff packed with slow moves to the plate -- has had trouble throwing out anyone.
"We've got players who can run," Diamondbacks manager Torey Lovullo said. "When the opportunity presents itself, we're going to take advantage of the opportunity.
The series starts Thursday with Michael Wacha (2-1, 6.06 ERA) going for San Diego against Ryne Nelson (1-0, 3.71) in a match of right-handers.
Half of Nelson's six career starts, including one earlier this season, have come against the Padres. He has a 1-1 record with a 3.12 ERA, a 1.154 WHIP and a .210 opponents' batting average against the Padres -- giving up seven runs (six earned) on 13 hits and seven walks with 13 strikeouts in 17 1/3 innings
Nelson held the Padres scoreless on four hits over seven innings in his major league debut last Sept. 5
Wacha will be making his first start against the Diamondbacks this season. He is 2-1 lifetime against Arizona in seven starts with a 3.82 ERA, a 1.415 WHIP and a .250 opponents' batting average with 34 strikeouts in 35 1/3 innings
Tatis is expected to be in the leadoff spot and playing right field for the Padres on Thursday. He prepped for his return in eight games at Triple-A El Paso, going 17-for-33 (.515) with two doubles, seven homers, 15 RBIs, six walks and 11 runs -- carrying a .590 on-base percentage and a 1.212 slugging percentage
"I don't care if it's Little League, those are great numbers," Melvin said.
--Field Level Media