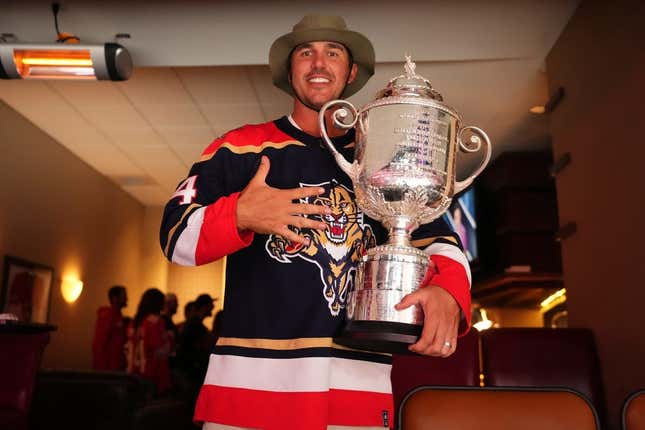 Star golfer Brooks Koepka and Florida Panthers defenseman Aaron Ekblad apparently have buried the hatchet
How running an NFL team is like running a restaurant | Chef Emeril Lagasse
Koepka, a South Florida resident and "dedicated fan" of the Panthers, was enthusiastic in his support of his favorite NHL team on Saturday prior to Game 4 of the Stanley Cup Final versus the Vegas Golden Knights. He banged the drum to get the crowd going in Sunrise, Fla., all while wearing an Ekblad jersey
So, why is that a talking point?
Well, Koepka made himself somewhat of a spectacle while attending a Panthers' home game against the New York Rangers on March 25
In a video that went viral, Koepka was shown holding the traffic cone after Ekblad was beaten on a goal during the Panthers' 4-3 loss
"He gave up a bad goal," Koepka said about Ekblad at the time, per GolfWRX. "It was a bad pass in the third. I'm a die-hard P's fan, and he gave up a bad goal.
"I just felt like if they didn't win that game they weren't going to make the playoffs. Dedicated fan, man."
Ekblad responded days later with the following to Sportsnet:
"We're not buddies. Never be buddies."
Ekblad, 27, is a former Calder Trophy recipient as the NHL's rookie of the year in 2014-15. He was selected by the Panthers with the first overall pick of the 2014 NHL Draft
Koepka, 33, won his fifth major by capturing the 2023 PGA Championship last month.
The Panthers lost 3-2 on Saturday night and trail 3-1 in the series. The Golden Knights can clinch the Stanley Cup in Game 5 on Tuesday night in Las Vegas
--Field Level Media