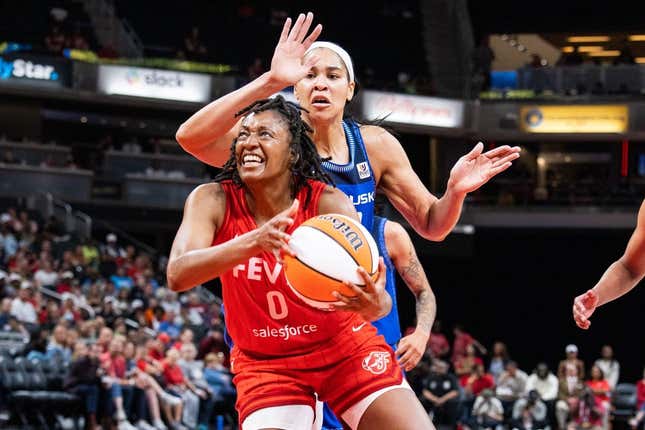 The Indiana Fever will look to record consecutive wins for just the second time this season when they host Jewell Loyd and the Seattle Storm on Thursday in Indianapolis.
Is Texas or Florida State a bigger national title contender? | Agree to Disagree
Kelsey Mitchell scored 28 points to eclipse the 3,000-point plateau in her WNBA career on Sunday, fueling the Fever (9-24) to an 83-73 win over the Phoenix Mercury. NaLyssa Smith collected 25 points and 11 rebounds to help Indiana snap a four-game road losing skid.
"It was all about just keeping our foot down on the gas, whatever we had to do," Indiana coach Christie Sides said.
Smith worked the interior to sink 9 of 12 shots from the floor. She also made 7 of 11 attempts from the foul line for the Fever, who last won consecutive games on June 13-15.
"I think a lot of games, I just settle. Settle for jump shots, settle for 3s, but just talking to my family, talking to my coaches, I just realized how powerful I could be inside," Smith said, per the Indianapolis Star. "Sticking to that, I'm a lot more efficient, so it was a good night."
Mitchell scored 25 points and Smith contributed 12 points and 14 rebounds in the Fever's 80-68 victory in Seattle on June 22. Mitchell added 19 points while Smith sat out with a left foot injury in Indiana's 85-62 setback to the visiting Storm on July 30.
Loyd led Seattle (10-23) with 19 and 26 points, respectively, in those games.
Loyd, who averages a WNBA-best 24.1 points per game, scored 26 points against Chicago on Tuesday to set the Storm's single-season record in points (748). Unfortunately, Seattle fell for the second time in three contests with a 102-79 setback to the Sky.
"My thing is to always come out and compete, regardless of the score," Loyd said, per the Seattle Times. "Obviously, we want to win games, but there's always a bright side to everything. I guess for the Seattle organization and the fans, this is the bright side to (Tuesday's) loss."
—Field Level Media