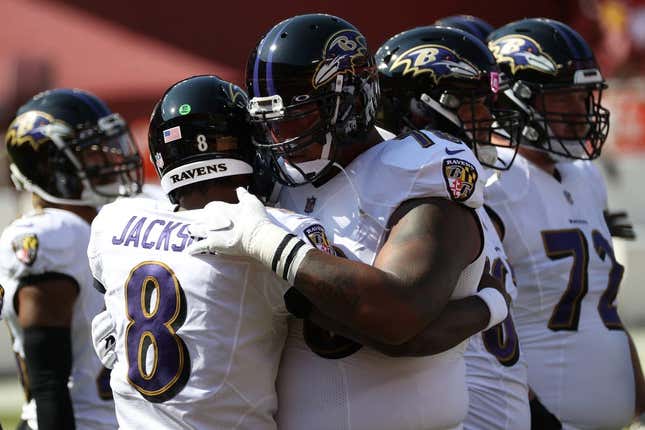 Move over March Madness, here comes NFL free agency.
Football's springtime spending spree gets a rolling start on Monday when teams are permitted to make contact with players on their shopping list.
Deals can become official on March 15, the first day of the NFL league year, but many moves are agreed to quickly through dialogue with agents and players on Monday.
The March 7 franchise tag deadline came with a few surprises.
Ravens quarterback Lamar Jackson can sign an offer sheet with other teams because Baltimore used the non-exclusive franchise tag, a cheaper and less-protective option.
And the Chiefs surprisingly stopped short of a second tag for left tackle Orlando Brown, who is speculated to be in line for a $125 million deal with the Chicago Bears.
Two Pro Bowl passers are already off the market -- the Seahawks re-upped with Geno Smith and Raiders quarterback Derek Carr relocated to New Orleans. And 39-year-old Aaron Rodgers, though under contract, appears on the verge of running an out route of his own to fly the coop from Green Bay to the New York Jets.
Field Level Media's top 50 unrestricted free agents for 2023:
1. Lamar Jackson, QB, Ravens
Things are getting interesting, but Baltimore still has the final say here. Self-represented and negotiating without an agent, Jackson is using the fully guaranteed $230M deal Deshaun Watson signed with the Browns last year as his guidepost. Will the Ravens blink? Jackson is 26 and a five-year deal likely leaves him room to sign a third contract at age 31.
2. Orlando Brown Jr., OT, Chiefs
Jackson's former teammate in Baltimore and a member of the same Ravens' 2018 draft class, Brown has outperformed his draft slot (83rd overall) and contract. Unless general managers wait for the draft, the OT market is slim pickings. Brown has plenty of leverage. Tagged last spring at a value of $16.62 million for 2022, Brown declined a six-year, $139 million deal with a $30.25 million signing bonus last July.
3. Daron Payne, DT, Commanders
The 25-year-old was tagged and isn't getting out of Washington if coach Ron Rivera has anything to do with it.
4. Josh Jacobs, RB, Raiders
Also tagged, the Raiders plan to keep Jacobs after his bounceback 2022 season.
5. Jessie Bates, S, Bengals
He'll relocate and isn't hiding the fact that he's chasing the biggest payday available. All too familiar with the franchise tag ($12.9M last year), Bates held out until Aug. 23 last summer when the two sides couldn't reach a long-term agreement.
6. Javon Hargrave, DT, Eagles
The ideal fit in Philadelphia's front after leaving a more restrictive role with the Steelers, Hargrave can command top dollar in free agency after posting a career-best 11 sacks last season.
7. Mike McGlinchey, OT, 49ers
This has risk written all over it, partly because he was protected by the downhill running game the 49ers prefer. With big contracts clogging the 49ers' path to a huge raise for the 28-year-old, McGlinchey will not offer a hometown discount to stay.
8. CJ Gardner-Johnson, S, Eagles
A trade heist in 2022 brought Gardner-Johnson to the Eagles for mid-round draft picks. Keeping him won't be quite as simple with the Jalen Hurts contract around the bend, but Philadelphia has a pair of first-round picks in 2023.
9. Jamel Dean, CB, Buccaneers
At 26, the former third-round pick can nearly name his price in a shallow pool of young free agent corners. Cap-strapped Tampa can't afford to keep him.
10. Saquon Barkley, RB, Giants
Franchised after the Giants signed QB Daniel Jones to a four-year deal, Barkley likes his fit in the Brian Daboll system. He turned 26 on Feb. 9, but other first-rounders have seen relative or dramatic letdowns on their second NFL contracts. Todd Gurley is only 28 and flat-lined two seasons ago with 6,082 career rushing yards. Ezekiel Elliott turns 28 in July and is showing severe wear and tear.
11. Lavonte David, LB, Buccaneers
David signaled earlier this month he's likely done in Tampa. Limited capital likely renders the Buccaneers as non-players in the David Sweepstakes, unless he's willing to go with a team-friendly deal at age 33.
12. Miles Sanders, RB, Eagles
Depth in the free agency class and upcoming draft takes some of the leverage out of Sanders' hands. He turns 26 on May 1 and has low mileage for a four-year pro. In 95 total games over the past seven pro and college seasons since enrolling at Penn State, Sanders has only 1,015 regular-season carries. By comparison, his predecessor at Penn State -- Saquon Barkley -- has 954 in 60 NFL games the past five seasons and tore his ACL in 2020.
13. Dalton Schultz, TE, Cowboys
Critical to an offense without a steady No. 2 wide receiver, the Cowboys might be willing to look toward the draft for his replacement or let understudy Jake Ferguson (fourth round, 2022) step into the lead role.
14. Tremaine Edmunds, LB, Bills
Drafted at 20 years old, Edmunds might not reach the Roquan Smith stratosphere of $20 million annually, but $15 million per season isn't out of the question. That's too rich for the Bills, who are over the cap and signed linebacker Matt Milano to a new deal.
15. Tony Pollard, RB, Cowboys
Pollard was tagged after grabbing the lead role for the Cowboys for only part of his fourth season, which ended at San Francisco in the playoffs due to a broken leg.
16. Jakobi Meyers, WR, Patriots
An undrafted free agent who became a nightmare matchup in the slot, Meyers should benefit from the rising market value for good and sometimes-great wide receivers.
17. James Bradberry, CB, Eagles
Before the holding penalty in Super Bowl LVII, Bradberry had one of the best seasons in pass coverage in the NFL. He'll be coveted, but too pricey for the Eagles to retain.
18. Jimmy Garoppolo, QB, 49ers
Houston, hello? Proven starter but unproven finisher with an expanding history of injuries. Garoppolo is 44-19 as a starter (including playoffs) and the 31-year-old fits as a short-term option for teams potentially in transition (Buccaneers, Jets, Packers).
19. Taylor Lewan, LT, Titans
Age, durability and salary converged as factors leading to Lewan's exit. With a shallow OT market, he might be convinced to relocate for a title shot.
20. Marcus Davenport, DE, Saints
A first-round pick in 2018, Davenport has shown flashes of the dominant traits that caught New Orleans' attention. Without the consistency to climb into the backfield, a long-term deal brings risk.
21. Evan Engram, TE, Jaguars
22. Yannick Ngakoue, DE, Colts
23. Jason Kelce, C, Eagles
24. Ben Powers, OG, Ravens
25. Dre'Mont Jones, DT, Broncos
26. Kaleb McGary, OT, Falcons
27. Dalvin Tomlinson, DT, Vikings
28. Marcus Peters, CB, Ravens
29. Kareem Hunt, RB, Browns
30. David Montgomery, RB, Bears
31. Jawaan Taylor, OT, Jaguars
32. JuJu Smith-Schuster, WR, Chiefs
33. Isaiah Wynn, OT, Patriots
34. Isaac Seumalo, OG, Eagles
35. Jonathan Jones, CB, Patriots
36. Jadeveon Clowney, DE-OLB, Browns
37. Fletcher Cox, DT, Eagles
38. Drue Tranquill, LB, Chargers
39. Allen Lazard, WR, Packers
40. Ethan Pocic, C, Browns
41. Dalton Risner, OG, Broncos
42. Cam Sutton, CB, Steelers
43. David Long, LB, Titans
44. Jordan Poyer, S, Bills
45. Mike Gesicki, TE, Dolphins
46. Devin Singletary, RB, Bills
47. Baker Mayfield, QB, Rams
48. Mecole Hardman, WR, Chiefs
49. Odell Beckham Jr., WR, N/A
50. Bobby Wagner, LB, Rams
--Field Level Media