We all had a grand old time in Brazil, didn't we? But now FIFA has to stop ignoring the fact that many (most?) observers believe the bidding process for the forthcoming Russia and Qatar World Cups was fixed, or at least flawed. In response to the clamoring for an update, FIFA has released a statement that amounts to, "you'll get the results when and if we say."
In response to enquiries regarding the investigation into the bidding process for the 2018 and 2022 FIFA World Cups™, the investigatory chamber of the FIFA Ethics Committee has released the following statement: "We expect to deliver our report to the adjudicatory chamber by the first week of September 2014".
The best sports movies according to Toheeb Jimoh
Note what happens next: only the of the Ethics Committee will see the report, and last I checked, you are not a member of the adjudicatory chamber.
So if you had hoped to find out all the dirt Garcia dug up on the shady World Cup bids, you're out of luck. According to a FIFA spokesperson, "only the final decision of the adjudicatory chamber may be made public."
The probe, led by former US attorney Michael Garcia, took more than 18 months and reportedly wrapped up last month. Despite all the bad publicity, especially concerning the Qatar bid, there is almost zero chance FIFA actually takes a World Cup away. But if FIFA decided the optics of a Qatar World Cup were simply too horrible, and if FIFA really wanted to move the tournament elsewhere, this is how it would save face.
G/O Media may get a commission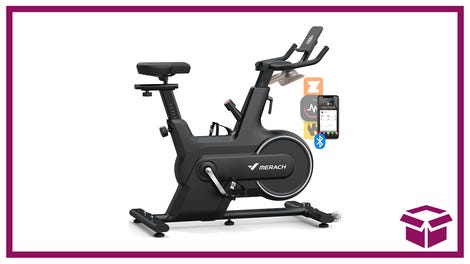 14% off + Coupon
Merach Indoor Cycling Bike
There's not really much in the FIFA laws and regulations about human rights atrocities—but they do cover corruption! FIFA could conceivably find evidence of any of the previously reported instances of bribery and rot, and use that to justify a re-vote. Normally, FIFA's higher-ups aren't big on rocking the boat, but there's an election next year, and the potential candidates—including, stunningly, Sepp Blatter—have moved to position themselves as anti-corruption figures, each more anti-corruption than the last. Again, I believe the chances of Qatar losing a World Cup are minuscule, but if it happens, it'll start with a damning report.
Now if only we got to see what's in that report.