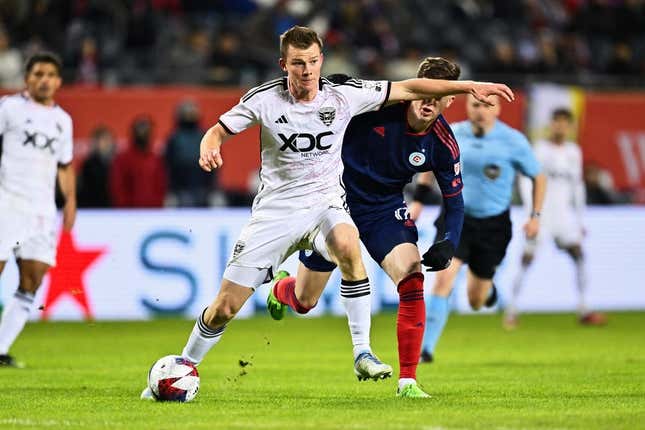 Both D.C. United and the Chicago Fire could boost their playoff chances when they meet on Saturday night in Washington, D.C.
How running an NFL team is like running a restaurant | Chef Emeril Lagasse
To do so, they'll need to snap out of their respective attacking struggles.
The Fire (8-10-8, 32 points) hold the ninth and final Eastern Conference playoff spot — two points ahead of D.C. (8-12-6, 30 points) — despite losing their past three in the league and failing to score in their past two.
The nature of last weekend's 3-0 loss to the LA Galaxy owed partly to an early red card received by Chicago midfielder Gaston Gimenez.
Wednesday's 1-0 home defeat to Vancouver was perhaps more discouraging, with the Whitecaps creating a clear majority of the chances despite going ahead through Brian White's 19th-minute tally.
Adding to the concern, midfielder Xherdan Shaqiri asked to be subbed off later in the second half, though he is not currently listed on the Fire's availability report.
"It's always tough to lose at home but, you gotta have a short memory," goalkeeper Chris Brady said. "It's good that we have so many games so quickly because, for an unfortunate result like tonight, the first thing you want to do is get back out there and play."
D.C. snapped a two-match scoreless streak in league play and a three-match goalless run in all competitions in Saturday's 3-1 home loss to the Philadelphia Union.
But as a contest, the match was well decided in Philly's favor before Ted Ku-DiPietro's 88th-minute consolation tally.
Club scoring leader Christian Benteke has been sitting on eight goals since his last one on June 3, and Taxi Fountas — who was second on the team — had his contract terminated by mutual consent last month after allegations he used a racial slur toward a teammate.
Gabriel Pirani has looked promising in his first two starts following his arrival on loan from Santos in Brazil but has yet to contribute a goal or assist.
"We created chances, but we have to take them. It's as simple as that," manager Wayne Rooney said of the loss to Philadelphia. "All you can do as coaches is try to put players in the right positions and try to get us creating as many chances as possible and hope your attacking players score goals and finish them off."
—Field Level Media