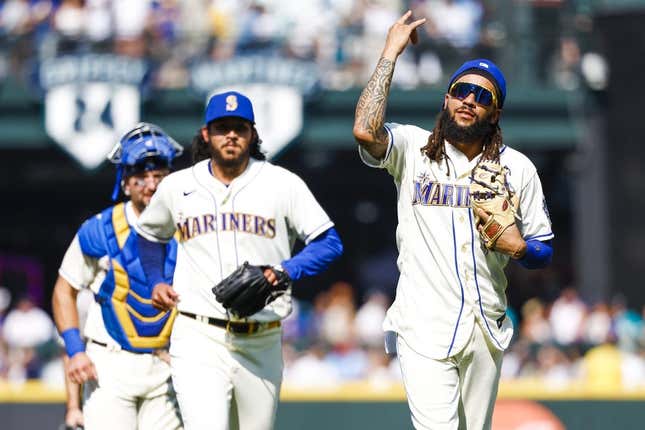 Back in 1995, when the Seattle Mariners were chasing their first postseason berth, outfielder Jay Buhner was asked about the wild card.
How running an NFL team is like running a restaurant | Chef Emeril Lagasse
"(Expletive) the wild card, we're going to win the division," Buhner replied.
It seems the 2023 Mariners are taking the same approach.
Teoscar Hernandez and Julio Rodriguez both homered and Luis Castillo allowed just one hit over seven scoreless innings Sunday in a 3-2 victory against the visiting Kansas City Royals. The Mariners won for the 11th time in 12 games to move into sole possession of first place in the American League West.
After sweeping the Royals, the Mariners will open a three-game series against the visiting Oakland Athletics on Monday night.
Much like the 1995 Mariners, this club has overcome a double-digit deficit to move atop the division. Seattle was 10 games back of Texas on June 30 before going on a 36-14 run. They broke a tie for the division lead Sunday after the Texas Rangers dropped a 7-6 decision in 13 innings to the Minnesota Twins.
"The last time I looked, it was tied and I said, 'Let's not even look anymore," Mariners manager Scott Servais said of the Rangers' game. "We have a lot of baseball to go.
"There is no question about it, we have played extremely well, really, since the first of July, and it's a testament to our players. They just keep their head down and they just focus on getting better. And that's what they're doing."
Rodriguez exemplifies that the most. The reigning AL Rookie of the Year is batting .410 with six homers and 27 RBIs in August.
"Still, we're not hot," Rodríguez said. "I'm going to keep saying it: We're not hot. We're just playing the ball that I know we're capable of."
Oakland, which suffered a 6-1 loss Sunday to the host Chicago White Sox, has lost all seven meetings with the Mariners this season.
"The progress that we've made from April to now, this team is much more competitive," A's manager Mark Kotsay said. "We've got guys that are gaining experience every day here at this level, which can only lead to their futures and to our future success."
The A's are just 6-28 against AL West opponents this season, with 18 games remaining against divisional foes.
"It's a great challenge as well to go in against Seattle, Texas, Houston and go try to take something from them that they're trying to earn, which is obviously a playoff spot," Kotsay said. "But more so for us to be competitive and finish the season with that confidence."
The A's haven't announced a starter for Monday's opener, while the Mariners are scheduled to go with rookie right-hander Bryan Woo (1-3, 4.58 ERA). Woo, 23, will be facing Oakland for the first time.
In his first start since returning from the injured list (right forearm inflammation), Woo limited the White Sox to one run on three hits over four innings before reaching his pitch limit on Tuesday. Seattle won 6-3, but Woo didn't figure into the decision.
—Field Level Media