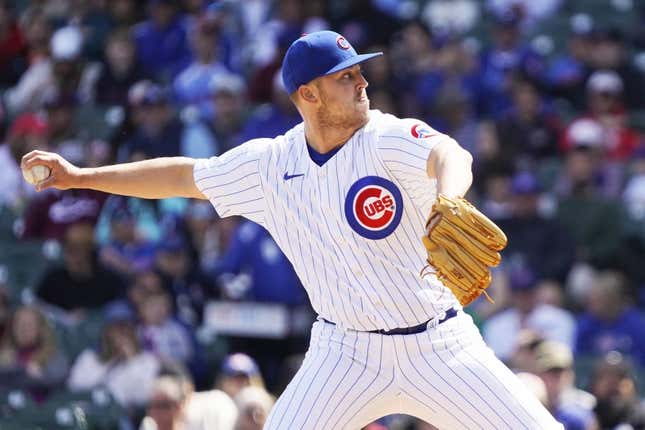 At the moment, the Pittsburgh Pirates sit atop the middling National League Central, while the Chicago Cubs are trying to stay out of the basement in the same division
How running an NFL team is like running a restaurant | Chef Emeril Lagasse
Looking to build on what was a winning homestand, the Pirates try for a third straight overall road victory Tuesday night against the Cubs
Pittsburgh's surprise strong start was erased by a month-long rut that left the club 26-27 on May 29. However, the Pirates are 8-3 since, and opened June with a 6-3 homestand, which featured a sweep of the underachieving St. Louis Cardinals, losing two of three to the lowly Oakland Athletics, then taking two of three from the struggling New York Mets
That leaves the Pirates with a one-game lead in the Central, where they and the Milwaukee Brewers are the only teams with a winning record
"We are in a good position right now to take advantage of teams who aren't quite where they want to be," said the Pirates' Andrew McCutchen, who recorded his 2,000th hit during Sunday's 2-1 win over the Mets
"It was a good homestand for us. ...Get ready for the road trip, because we have some important games coming up there."
Before visiting Milwaukee this weekend for an NL Central clash, the Pirates will face off with the Cubs, squaring off against former teammate Jameson Taillon (1-4, 7.02 ERA) in Tuesday's game. Taillon is 0-2 with an 8.27 ERA in four home starts
The right-hander looks to bounce back after he allowed four runs, five hits and four walks over 5 1/3 innings of a 6-2 road loss Wednesday to the Los Angeles Angels.
Taillon, who pitched his first four seasons with the Pirates (2016-19), faced them for the first time in 2022 as a member of the New York Yankees. Pittsburgh tagged him for five runs and six hits in 5 1/3 innings
Chicago native Jack Suwinski, who went 5-for-11 with two homers against the Mets, went deep off Taillon last year. Suwinski homered three times in 11 games last season against the Cubs, who return home following a 4-6 road trip
After opening 11-6, Chicago is 17-31 and has averaged 2.5 runs in the last 13 contests.
"It's got to get better," said Cubs manager David Ross, whose team failed to sweep a three-game set at San Francisco after Sunday's 13-3 loss
Chicago's Ian Happ was batting .301 on May 19. However, the Pittsburgh native has hit .169 with 23 strikeouts in 21 games since. Meanwhile, the Cubs hope Seiya Suzuki is back after missing the last two games with an undisclosed ailment
"He's not injured," Ross said of Suzuki, who was 5-for-7 in his last two games. "I'm never surprised if guys are dealing with things. We're hopeful (for his availability Tuesday)."
Suzuki hit .296 with three homers and eight RBIs in 11 games versus Pittsburgh last season. He hasn't faced scheduled Pirates starter Luis Ortiz (1-2, 4.23 ERA), who allowed one run, a hit and struck out seven in 4 2/3 innings of an 8-3 home loss to the Cubs last September
The right-hander allowed a season-high 10 hits Wednesday against Oakland, but only two runs in five innings of the 9-5 loss. Meanwhile, Ortiz has yielded six earned runs, 12 hits and eight walks in eight innings in his two 2023 road starts.
--Field Level Media