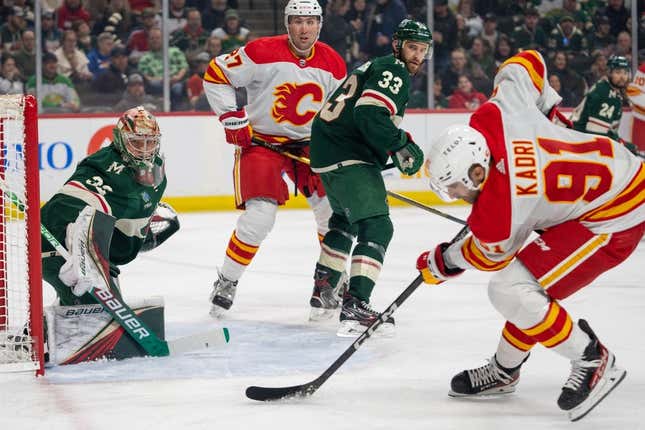 Tyler Toffoli scored the shootout winning goal and goaltender Jacob Markstrom shone while posting his first shutout of the season as the Calgary Flames claimed a 1-0 victory over the Minnesota Wild on Tuesday in Saint Paul, Minn.
How running an NFL team is like running a restaurant | Chef Emeril Lagasse
Toffoli, one night after scoring a last-minute winning goal in Dallas, slipped a quick shot through the goalie's legs for the difference-making tally in the fourth round of the shootout.
The Flames won consecutive games for the first time since Jan. 21 and 23, and the biggest reason was the much-maligned Markstrom, who recorded the 18th shutout of his career. He provided his biggest performance of the campaign with a 40-save effort through overtime -- 16 saves in the third period alone -- and then stopped two attempts in the shootout.
Calgary's overtime/shootout record this season improved to 6-13. The Wild are 11-7 in extra-time affairs.
Wild goalie Filip Gustavsson made 26 saves through overtime to officially net his second consecutive shutout -- both against the Flames. Gustavsson now has three shutouts on the season and in his career.
The Wild, who are on an 8-0-2 run, have not surrendered a goal during action for 150:57.
The Wild appeared to win the game when Jared Spurgeon scored on a rebound late in overtime, but a league-mandated review ruled the play was offside. Many Flames players had already gone to the dressing room and had to return.
It was the first time this season the Flames surrendered 40 or more shots against in a game.
Markstrom, who also played in Calgary's 5-4 win at Dallas on Monday, was outstanding all game against Minnesota, but especially in the third period. In that frame alone, he came up with a pair of stops on Jake Middleton when the Wild defenseman had an open lane to the slot, a diving glove stop on Spurgeon and an extended-leg stop when Ryan Reaves thought he had an open net.
Gustavsson wasn't as busy as his counterpart, but sparkled especially when he denied Dillon Dube from the doorstep in the second period. He also caught a lucky break when Toffoli rang a shot off the crossbar early in then third period. In overtime, Gustavsson denied Mikael Backlund on a breakaway seconds before Spurgeon's disallowed goal.
--Field Level Media