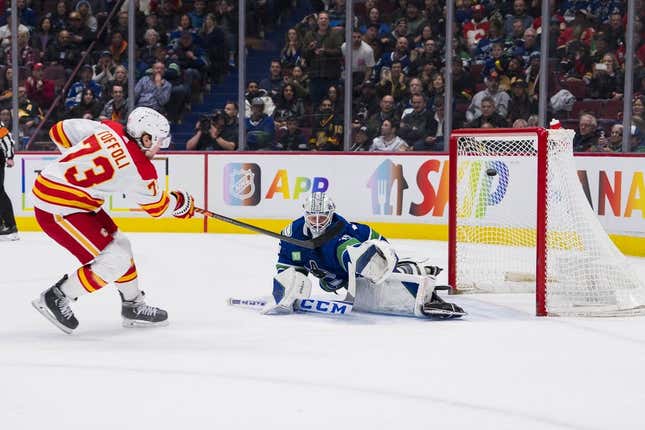 Winnipeg Jets coach Rick Bowness was quick to elevate the bar for Wednesday night's game against the visiting Calgary Flames, and for good reason
After all, the Jets (43-31-3, 89 points) are clinging to the second wild-card spot in the Western Conference with a two-point lead over the Flames (36-27-15, 87 points)
"(The contest) is probably going to be like a Game 7 for both teams," Bowness said following Tuesday's practice. "Win or lose, you're not eliminated, for sure. There's still three (games) for them, four for us after. But that's the mentality both teams will probably have going into the game."
Fast starts have ignited the Jets in their past two games. They held three- and two-goal leads after the first period en route to posting 6-2 and 6-1 wins over the Detroit Red Wings and New Jersey Devils, respectively
"It's as close to a must-win as you'll get in the regular season. It's a huge game," Winnipeg forward Adam Lowry said. "The last two games, the way we've gotten off to fast starts, it's going to be important we jump on them. .... Hopefully we can have some of the same success we've had in the first period the last couple games."
Nikolaj Ehlers collected a goal and an assist vs. the Red Wings on Friday and added two tallies vs. the Devils two nights later.
Blake Wheeler also has multi-point performances in each of his past two games after being reunited on a line with Ehlers and Vladislav Namestnikov.
"Everybody likes playing with Vladdy because of his hockey IQ," Bowness said. "There is some chemistry there with Vladdy, Nik and Wheels. It's worked so far; we'll see how far we can go with it."
The 12-goal uprising over the past two games was a welcome sight for the Jets, who had mustered just nine goals in their previous seven games
The Flames, in turn, scored 17 goals during a four-game winning streak before dropping a 4-3 decision to the Chicago Blackhawks on Tuesday night
Mikael Backlund scored with 6:51 remaining in the third period against the Blackhawks; however, the Flames were unable to net the equalizer against a team that had lost its eight previous games
"It's real frustrating, it's tough, but at the same time we have to regroup here," Backlund said. "We have to be better (on Wednesday), win (Wednesday), and we're back in it."
Tyler Toffoli scored his team-leading 34th goal on Tuesday to boost his point total to 16 (eight goals, eight assists) in his past 10 games.
Defenseman Chris Tanev blocked three shots and logged 18:33 of ice time in his return to action following a six-game absence due to an undisclosed injury.
"Obviously I'd like to play in every game, and it hasn't happened this year," Tanev told the Calgary Sun. "But I'm glad to be out there with the guys and I feel pretty good."
--Field Level Media