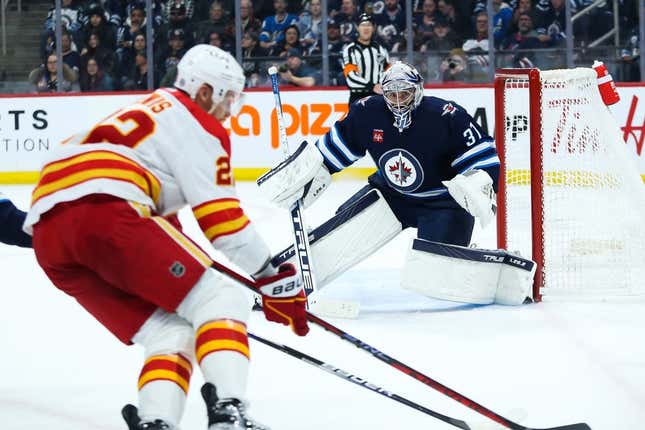 Fourth-liner Walker Duehr scored the go-ahead goal early in the third period and Jakob Markstrom made 34 saves to fuel the visiting Calgary Flames to a 3-1 victory over the Winnipeg Jets on Wednesday
Bass' ERA stinks, but not compared to who he is off the mound | Worst of the Week Countdown
Andrew Mangiapane and defenseman Nikita Zadorov each collected a goal and an assist for the Flames (37-27-15, 89 points), who have won five of their last six games to pull even in points with the Jets (43-32-3, 89 points) for the second wild-card spot in the Western Conference. Winnipeg, however, has four games remaining on its schedule while Calgary has three
Kyle Connor scored a power-play goal in the first period and Connor Hellebuyck made 32 saves for Jets
Duehr skated around the net before his wraparound shot caromed off the stick of Winnipeg defenseman Nate Schmidt and past Hellebuyck to give Calgary a 2-1 lead at 4:08 of the third period. It was Duehr's seventh goal of the season and third in his last six games.
The Flames doubled their advantage at 10:40 of the third period after Zadorov's wrist shot from the inner edge of the left circle handcuffed Hellebuyck. The goal boosted Zadorov's career-high total to 11 on the season
Stationed nearly the left-wing boards, Nikolaj Ehlers wired a seam pass to the right faceoff dot that Connor converted to open the scoring at 11:42 of the first period. It was Connor's 31st of the season and third in as many games.
Calgary nearly forged a tie early in the second period after Zadorov cleaned up a rebound following Nick Ritchie's bid on a breakaway. The Jets challenged the play, and the officials ruled that Ritchie's left skate resulted in goaltender interference prior to the apparent goal being scored
The Flames leveled the contest at 6:06 of the second period after Mangiapane converted a 2-on-1 rush with Mikael Backlund. The goal was Mangiapane's 17th of the season and third in his last five games
--Field Level Media