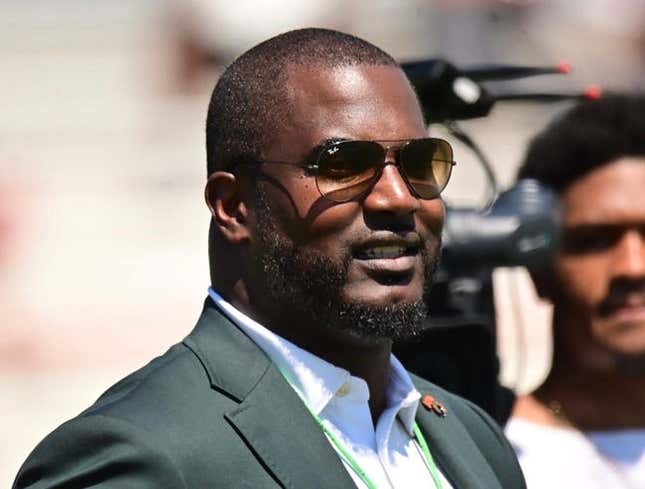 The Florida A&M football team can resume activities Tuesday while the university continues to investigate the unauthorized filming of a rap video, athletic director Tiffany-Dawn Sykes said Monday.
How running an NFL team is like running a restaurant | Chef Emeril Lagasse
Florida A&M had suspended all football-related activities until further notice on Friday after a rap video with explicit lyrics was filmed in the team's locker room without authorization and released online.
Coach Willie Simmons announced the program's halt Friday night, just hours after the release of the video for "Send A Blitz" from rapper Real Boston Richey.
In the video, Richey is seen in the locker room at Galimore-Powell Fieldhouse on the Florida A&M campus in Tallahassee. Richey is wearing a Florida A&M shirt as well as helmets bearing the team logo. Several Florida A&M football players can be seen in the video but have not been identified by the school.
"An investigation into the unauthorized video that was partially filmed in the football locker room is being led by the University's Office of Compliance and Ethics," Sykes wrote on her and the athletic department's Twitter accounts. "Since this is an ongoing investigation, no further comment can be shared at this time.
"In my role, I have been transparent with stakeholders and this time will be no different. I will make myself available for comment at the conclusion of the investigation."
In his statement posted to Twitter last Friday, Simmons said the video was made "without proper authorization" and that a forthcoming investigation will look into who authorized the use of the locker room as well as the use of team apparel, which "potentially violates university branding and licensing agreements."
Though Simmons said he supports "free speech and ... all forms of musical expression," he expressed disappointment that the content of the video was not in alignment with the university's image.
The video contained graphic language that "is not consistent with Florida A&M's core values, principles and beliefs," Simmons' statement said.
Richey is a local of Tallahassee whose real name is Jalen Foster. He performed at Florida A&M's homecoming game last season.
The Rattlers' head coach and selected players planned to be in attendance Tuesday at the Southwestern Athletic Conference football media day in Birmingham, Ala. The team's first practice is slated for Aug. 4
Simmons is entering his sixth season as head coach of Florida A&M and has a 33-12 record. The Rattlers open the season Sept. 3 against Jackson State at Hard Rock Stadium in Miami Gardens, Fla
--Field Level Media