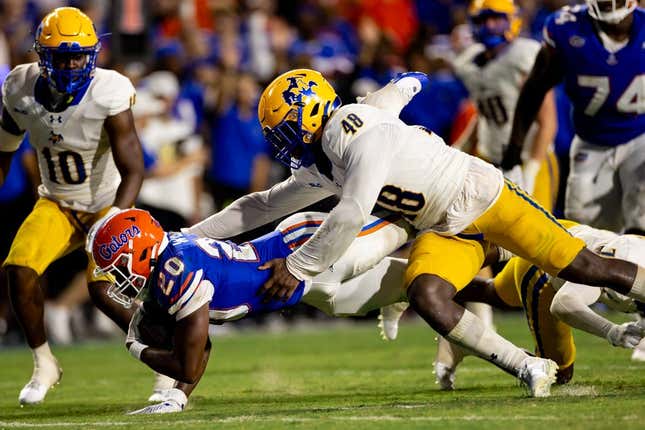 Montrell Johnson Jr. ran for 119 yards and two scores and Florida posted touchdowns on its first seven drives as the Gators routed FCS opponent McNeese 49-7 Saturday night in Gainesville, Fla.
How running an NFL team is like running a restaurant | Chef Emeril Lagasse
Johnson's 15 carries included scoring runs of 2 yards in the first quarter and 8 yards in the third for the Gators (1-1). Treyaun Webb (14 rushes, 71 yards) also ran for two touchdowns.
Graham Mertz completed 14 of 17 passes for 193 yards and one score. He connected with Ricky Pearsall on a 50-yard pass play with 3:45 left in the third quarter to extend the blowout to 40-0.
Florida outgained the Cowboys 560-112 and had 33 first downs to McNeese's six. The Gators' two shortest scoring drives each covered 62 yards.
Micah Davey had 13 tackles (7 solo) to lead the Cowboys (0-2). Nate Glantz was 6 of 13 passing for 62 yards.
Coleby Hamm's 8-yard touchdown run with 2:24 remaining enabled McNeese to avoid the shutout. The score was set up by John Brown Jr.'s fumble recovery at Florida's 8-yard line.
McNeese's D'Angelo Durham (11 rushes, 45 yards) was stopped in the end zone for a safety and 42-0 Florida lead at 2:54 of the third.
The lead grew to 49-0 when Webb ran 5 yards for a score two minutes into the fourth quarter. He also had a 2-yard touchdown run in the second quarter.
Florida seventh-year college veteran Micah Leon, a graduate transfer and walk-on quarterback, entered in the fourth quarter. He was 2 of 3 passing for 16 yards.
Florida scored touchdowns on each of its four first-half possessions to build a 26-0 halftime cushion. Four different Gators found the end zone, and they outgained McNeese 295-51 and had 20 first downs to the Cowboys' three.
Trevor Etienne (11-84) scampered 8 yards for a touchdown with 34 seconds to go in the half.
Rushing touchdowns by Johnson and Mertz gave the Gators a 13-0 lead after the first quarter.
Johnson's 2-yard score at 10:59 capped a 9-play, 62-yard drive. Mertz's 1-yard plunge with 28 seconds remaining finished an 11-play, 99-yard drive.
—Field Level Media