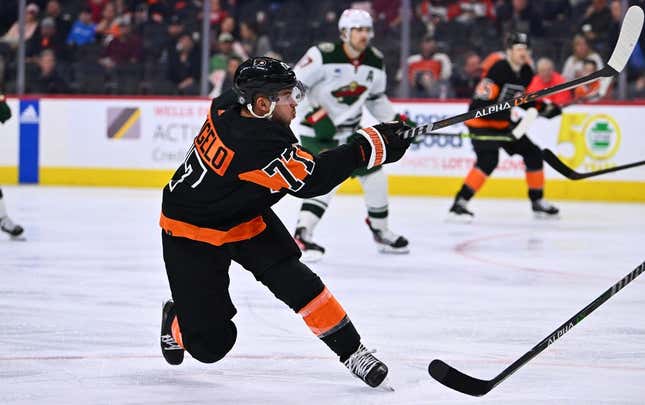 Entering their final home game of the season, the Philadelphia Flyers will try to end a seven-game winless streak when they host the Columbus Blue Jackets on Tuesday
Bass' ERA stinks, but not compared to who he is off the mound | Worst of the Week Countdown
The Flyers are 0-6-1 in their last seven games, all played within the span of 11 days. So many losses in such a short time frame "takes the energy out of you," according to John Tortorella, but the Philadelphia coach praised his team's resilience during "the hard part of the (rebuilding) process.
"From the get-go, we keep fighting ... It's something that they can lean on as we continue to try to build this," Tortorella said.
As an example, the Flyers (29-38-13, 71 points) were defeated but not outmatched in Sunday's 5-3 loss to the Boston Bruins. Even against a Bruins team which recorded its NHL-record 63rd win of the season, the Flyers played competitive hockey and outshot Boston by a 37-34 margin
Both the Flyers and Blue Jackets (24-47-8, 56 points) will miss the playoffs for the third consecutive season. Expectations were higher in Columbus, especially after a busy offseason headlined by the signing of Johnny Gaudreau
Instead, the biggest question heading into the Blue Jackets' last three games is if the team will finish with the NHL's worst record. The dubious distinction might prove to be a long-term boost, however, since highly-touted prospect Connor Bedard is available to whichever team wins the first overall pick in the NHL draft lottery
The Jackets are on a three-game losing streak and are 4-12-2 in their last 18 games. Those four victories were all in overtime, and Columbus' last regulation win was a 5-3 result over the Buffalo Sabres on Feb. 28.
Injuries have plagued Columbus all year, particularly during this season-closing stretch. The Blue Jackets have had to shuttle players back and forth from the AHL just to fill out their roster, and the result is a team that has only somewhat looked NHL-caliber
The Jackets had a season-low 17 shots in Thursday's 8-1 loss to the New Jersey Devils, then fared only slightly better with 20 shots in Saturday's 4-0 loss to the New York Rangers.
Down 2-0 entering the third period Saturday, Blue Jackets coach Brad Larsen thought his team "just needed to get one (goal) to try and get some more energy, get some more zone time. But (we) give up a third and then we're chasing it.
Eric Robinson is questionable for Tuesday after leaving the Rangers game with an upper-body injury.
Michael Hutchinson stopped 24 of 28 shots against New York. The Blue Jackets could start Hutchinson or Jon Gillies against Philadelphia, or rookie Jet Greaves might get another call-up from the AHL
Carter Hart is the Flyers' probable starter, though Hart was somewhat surprisingly pulled after two periods in his last game, a 4-0 loss to the New York Islanders on April 8. Felix Sandstrom or AHL goaltender Samuel Ersson would get the nod if Hart doesn't play
Tony DeAngelo leads Philadelphia defensemen with 42 points this season, but he has been a healthy scratch from the Flyers' last three games
The Blue Jackets have won two of three previous games against the Flyers this season
--Field Level Media