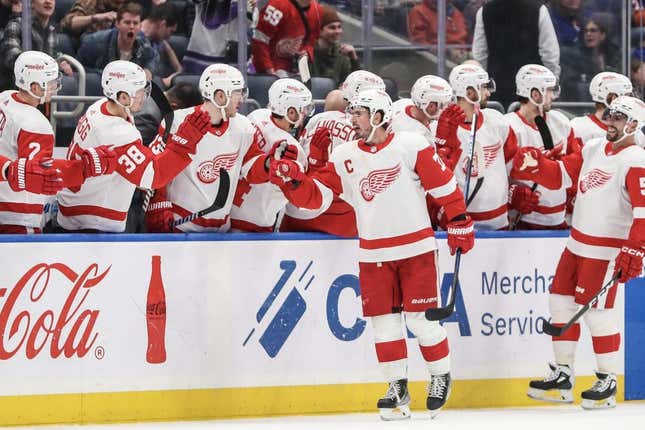 The Philadelphia Flyers' frustrating season was taken to lower depths on Friday.
As if their seventh-place standing in the Metropolitan Division wasn't bad enough, they weren't even able to acquire draft capital for a standout player like James van Riemsdyk before the trade deadline on Friday.
How running an NFL team is like running a restaurant | Chef Emeril Lagasse
The Flyers, who will miss the playoffs for the third straight season, couldn't deal the 33-year-old van Riemsdyk, who has 297 career goals and 288 assists.
"The deals that were presented were not good for the Philadelphia Flyers," general manager Chuck Fletcher said. "We don't want Band-Aids. I want to build this the right way. Those are my words and my actions have to back it up."
Philadelphia will look to avoid a fifth consecutive loss when it hosts the Detroit Red Wings on Sunday. Ironically, the Flyers and Red Wings appeared close to a deal for van Riemsdyk 20 minutes before the trade deadline expired.
"They had a concept that if they were able to move a forward off their team, then they had interest in acquiring JVR," Fletcher said. "All along, it was conditional on the other trade going through and eventually the other trade fell through."
In their most recent game, the Flyers fell 3-2 in overtime to the New York Rangers on Wednesday.
The Flyers did make a few minor moves in dealing fourth-line forward Zack MacEwen to the Los Angeles Kings for Brendan Lemieux and a fifth-round pick in 2024.
Patrick Brown also was traded to the Ottawa Senators for a sixth-round pick. Finally, Isaac Ratcliffe was shipped to the Nashville Predators for future considerations.
The Red Wings lost their fifth straight game (0-4-1), this time a 4-1 setback to the New York Islanders on Saturday.
Captain Dylan Larkin scored the lone goal and Magnus Hellberg made 32 saves.
The 26-year-old Larkin, who was picked by the Red Wings in the first round of the 2014 NHL Draft, signed an eight-year, $69.6 million deal on Wednesday.
Aside from Larkin, the Red Wings struggled much of the game offensively.
"This is a bad matchup for us," Detroit head coach Derek Lalonde said. "You got to get on a roll and fight through a team that's going to defend their net. It's uncomfortable We don't have many of that type of player."
The new-look Red Wings made four deals before the trade deadline and received future draft capital.
The Red Wings dealt four players -- defenseman Filip Hronek and wingers Tyler Bertuzzi, Jakub Vrana and Oskar Sundqvist -- all in exchange for future considerations.
Both Bertuzzi and Hronek were second-round picks by the organization and had spent their entire NHL careers with the Red Wings.
"You have mixed emotions," Red Wings executive vice president and general manager Steve Yzerman said. "These are reasonably young players that are part of your team. I think the return -- the assets that we got -- I am pleased with that. Whether we use those draft picks in particular at the draft or use them to acquire players, it's important that our staff makes good decisions."
--Field Level Media