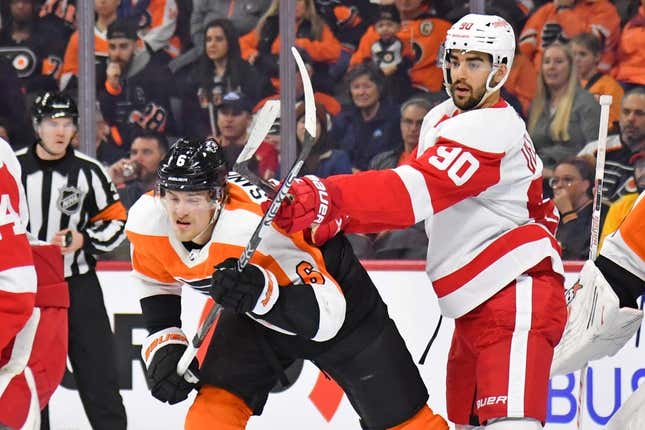 Nicolas Deslauriers, Noah Cates and Scott Laughton each scored one goal to lift the host Philadelphia Flyers past the Detroit Red Wings 3-1 on Sunday.
How running an NFL team is like running a restaurant | Chef Emeril Lagasse
Laughton scored an empty-net goal at 18:12 of the third period in his 500th career game to seal the victory.
The Flyers snapped a four-game losing streak and won for just the second time in their last 10 games (2-8-0).
Philadelphia goaltender Carter Hart made 25 saves.
David Perron scored the lone goal for the struggling Red Wings, who have dropped six in a row (0-5-1).
Red Wings goaltender Ville Husso stopped 34 shots. Husso was pulled for an extra skater at 17:42, but the move backfired as Laughton scored 30 seconds later.
Joel Farabee was whistled for tripping at 5:40 of the third period and the Red Wings earned their second power play. Dylan Larkin had the best shot with the extra skater, but Hart slid across the crease to make the save.
Farabee ripped a shot on goal at 14:08. After Husso stopped the shot, Adam Erne pushed James van Riemsdyk into Husso and both teams became entangled.
Detroit struck first for a 1-0 lead when Perron connected for his 16th goal of the season at 4:51 of the first period.
The Flyers had numerous scoring chances but couldn't capitalize and went into the locker trailing by one goal.
They finally tied the game at 1 when Deslauriers skated in from center ice all alone and scored short-handed at 6:53 of the second period. It was the 11th short-handed goal of the season for the Flyers, tied for second-most in the league.
Cates later redirected a shot from the point in front at 12:57 for a 2-1 Philadelphia advantage.
The Red Wings continued to play a physical style, but struggled getting shots on goal. Former Flyer Robert Hagg had a good opportunity at 13:37 but fired the shot wide.
--Field Level Media