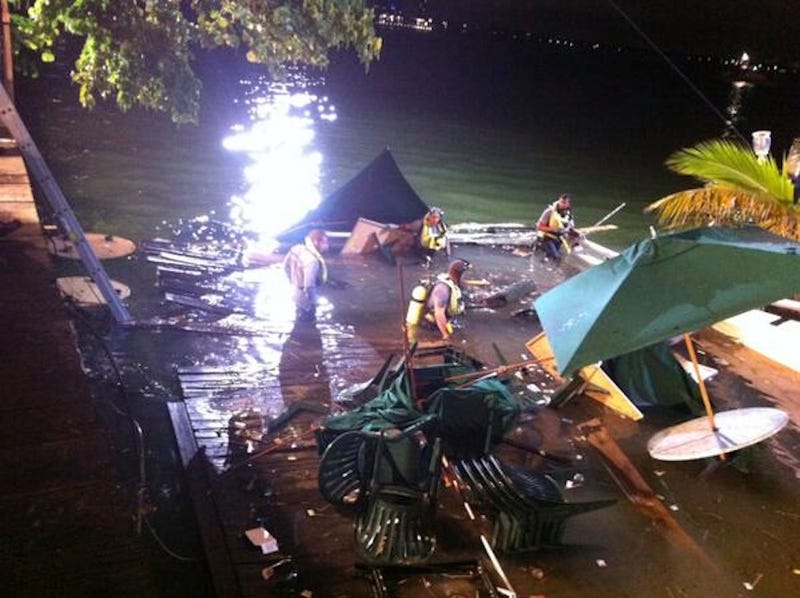 Approximately 100 people were on Miami sports bar Shuckers's deck when it collapsed into Biscayne Bay during the first half of Game 4 of the NBA Finals Thursday night. The latest numbers list the injured at 33, 24 of whom were taken to area hospitals. Two patients were listed in serious condition.
Chris Volz, 39, said he was sitting at the western end of the bar, about 10 feet from where the deck gave way. "Everybody's watching the game. It sounded like a freight train, then everyone was gone. The deck went down like a V." He said it happened in a split second and that no one had a chance to get away.

He said bartenders were diving into the water to help rescue the patrons. Fire trucks pulled to the water's edge and extended their ladders over the water to help the patrons climb to safety.
According to Crystal Infante, a customer involved in the collapse, the deck was five feet above the water and the water was shallow enough to stand up in once it collapsed but it was "difficult to get out because wood, umbrellas, tables, chairs and other debris surrounded them."
"There was a crack, and then we were in the water," Infante said." It was really hard to get out, and you couldn't find anyone."
Image via
BREAKING: Dozens injured as deck collapses at Shuckers Restaurant during Miami Heat game [Miami Herald]